Our Top 10 Gift Ideas For New Babies & Small Children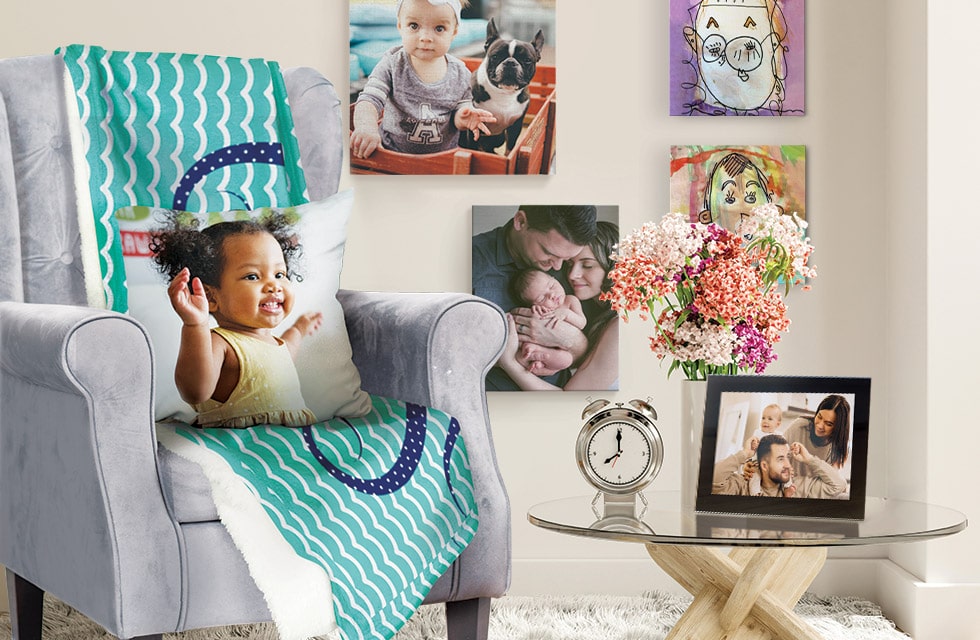 The birth of a new baby is one of life's most precious events. It's important to celebrate the new arrival, and a personalised baby gift is a wonderful way of doing that.
Plus, as they journey through those precious early years, Snapfish photo gifts are the perfect excuse for printing keepsakes of their many childhood milestones. So, if you are looking to design a gift that's one-of-a-kind, we're here to help. From practical new baby gifts to thoughtful mementos and birthday or Christmas gifts for kids, our top 10 personalised baby gift guide will likely inspire you with ideas for gifts you can make for the new parents and little ones in your life, year after (adorable) year!
Design A Baby's First Christmas Ornament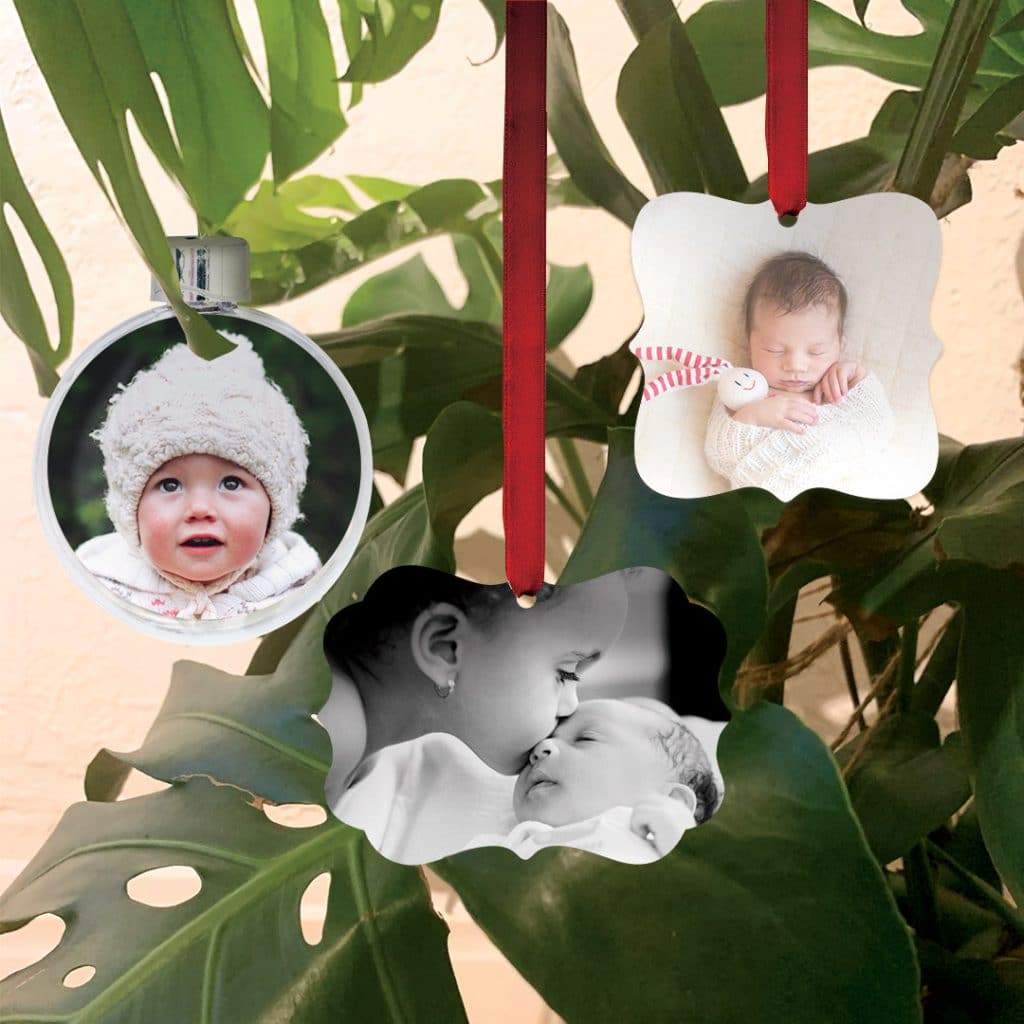 Christmas ornaments are keepsakes that many families cherish for generations. Snapfish offers two modern metal ornament options: medallion and square, as well as a spherical Christmas bauble, which you can customise with your choice of picture and text. Create a new family tradition and personalise it with the child's name, date of birth or monogram.
Keep Them Warm With A Personalised Blanket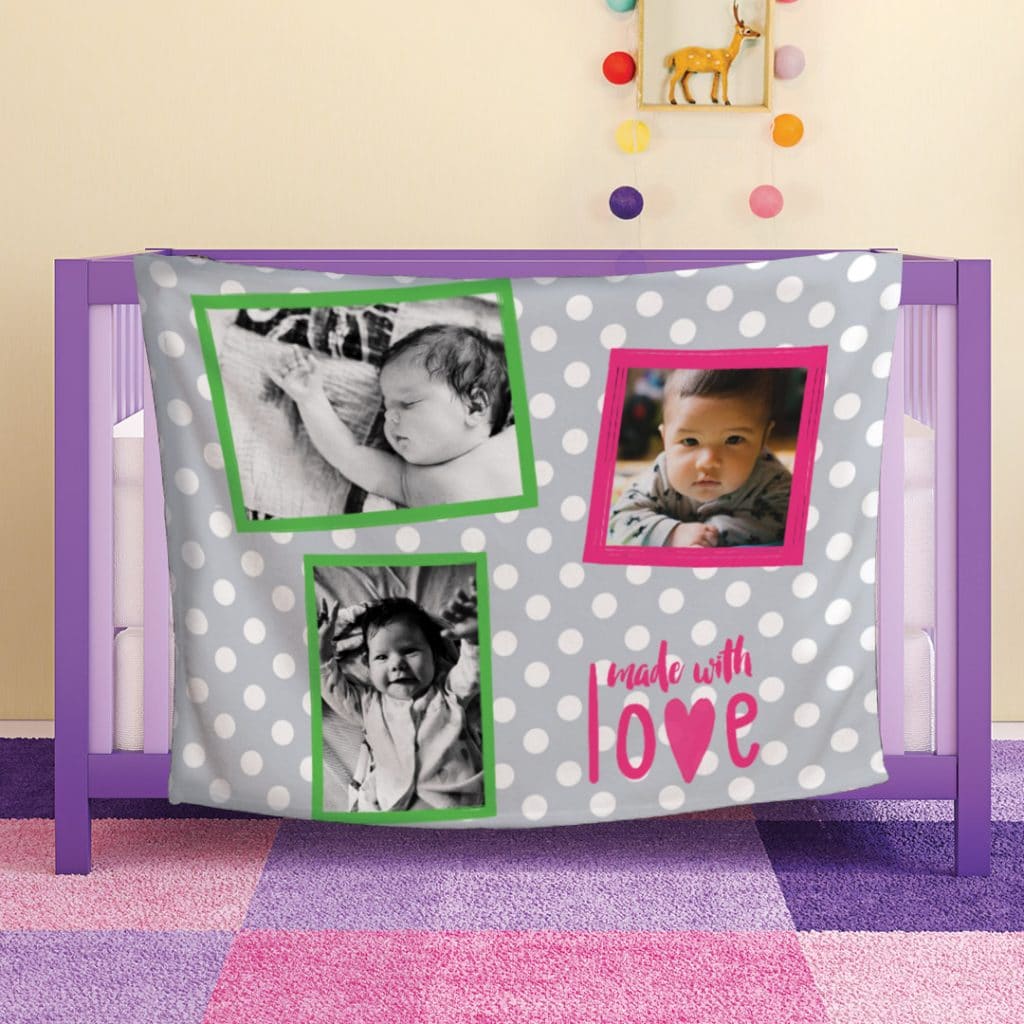 Blankets are the perfect personalised baby gift. They're soft, warm, and will keep the little one snug in their cot or pram. Many children sleep with their baby blankets as they grow up and the newborn will likely keep their blanket well into their adult years as a childhood memento! Snapfish baby blankets and larger fleece blankets are available in a variety of designs and layouts that can be easily customised with the baby's name, photos, and even embellishments.
Create Custom Cushions To Add An Adorable Touch To The Nursery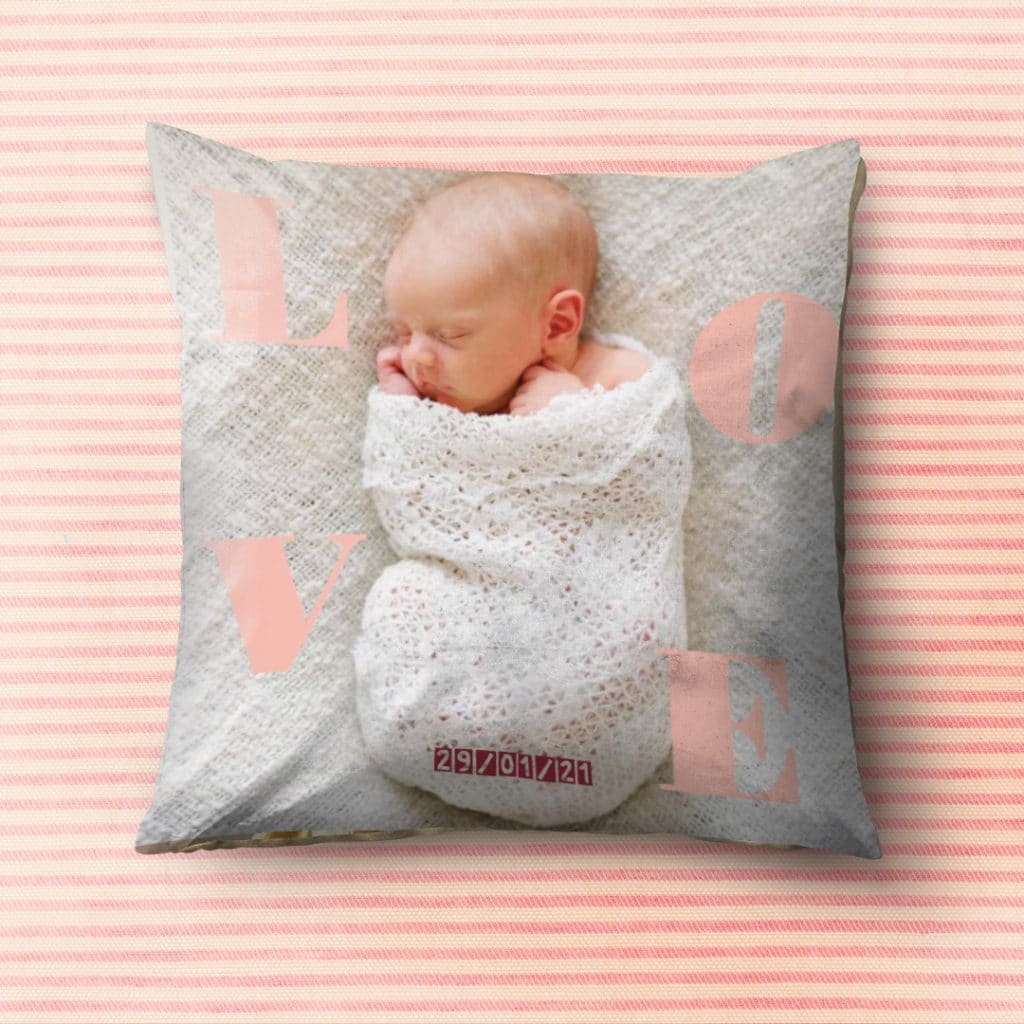 One of the most special moments of being a new parent is decorating the nursery. If you're looking for baby gift ideas, consider a customised photo cushion for the cot or rocking chair in the baby's room. This cushion could include a picture of the baby or the baby's birth date and name. Whichever design you choose, the family will appreciate the thought and care put into this gift. The new parents will hold onto this special personalised baby gift as their baby grows older. Custom photo cushions also make great baby shower gift ideas for those who have already chosen the name of their bundle of joy!
Document Milestones In A Baby Photo Book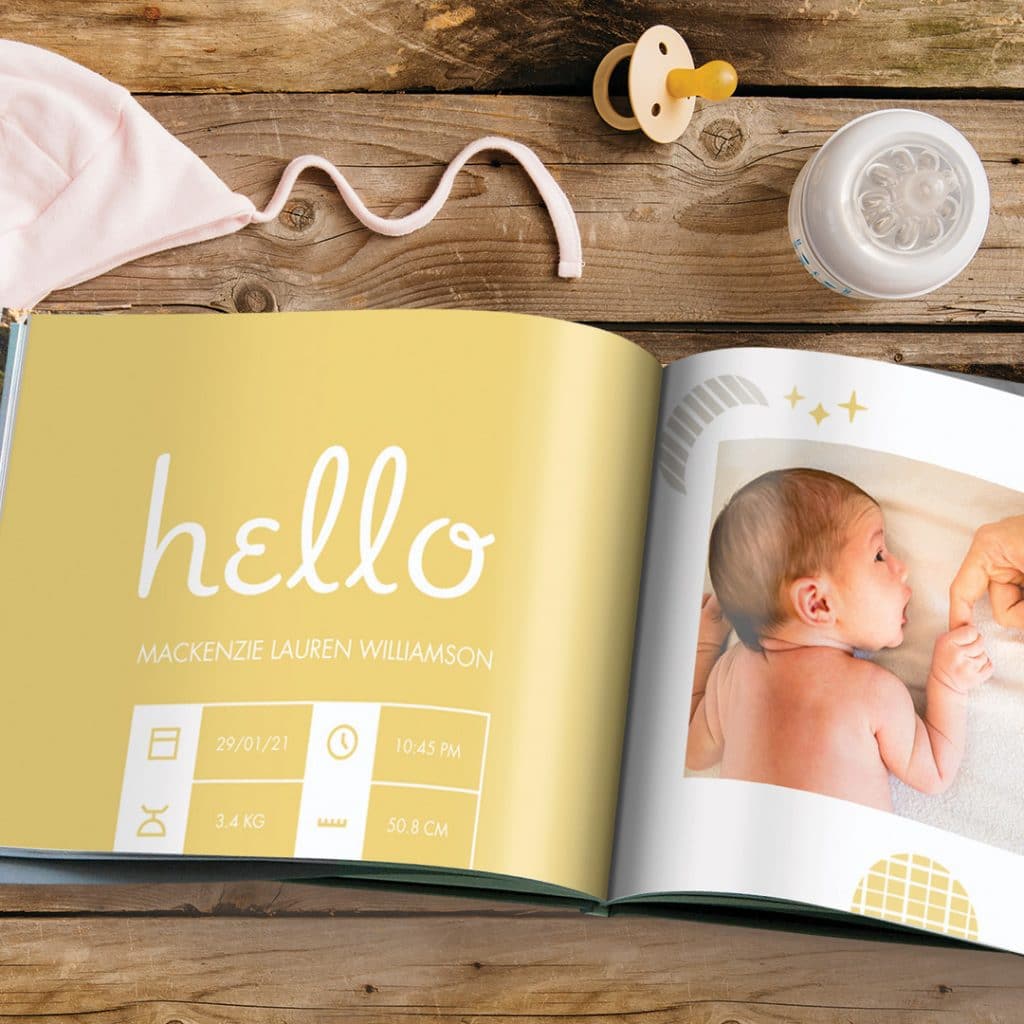 Photos are one of the best ways to remember the earliest moments of a child's life. Printing photos and slipping them into photo albums used to be the way to keep photos safe, but now there's an easier way to flip through life's important events. You can create a custom photo book of a baby's journey into the world and their most important early memories to make it a special gift for new parents and grandparents. Design a personalised photo book with beautiful moments, like the new family member meeting their grandparents (or pet siblings) for the first time, their first smile, first tooth or even their first steps. From candid pictures to portrait photos, this personalised baby gift will touch the parents' hearts and become a keepsake for many years to come. Plus, because the baby photo album is bound like a book, it will last for years and the child could then look back on it when they grow up.
Place Them Centre Stage In Their Very Own Story Book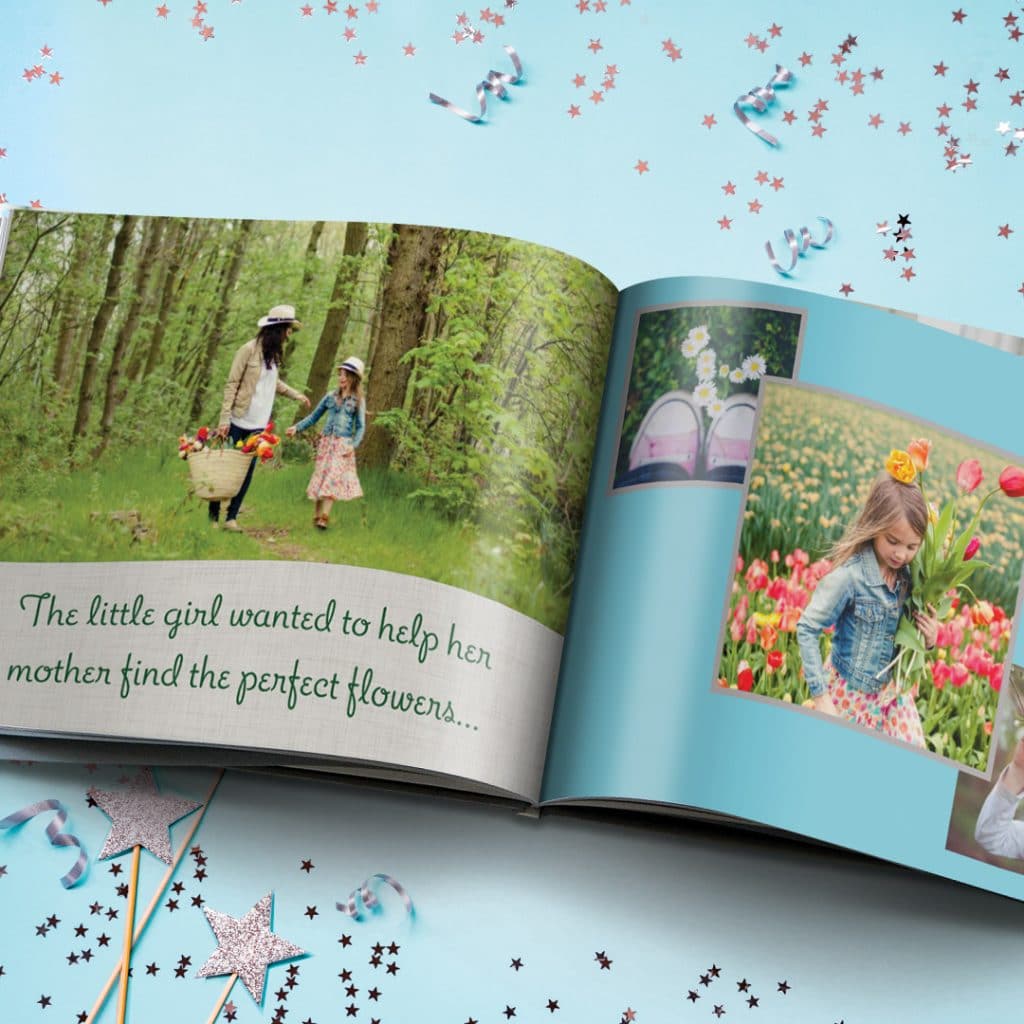 When trying to choose the best gift, you'll want to pick something they can hold onto for a long time. Many parents read bedtime stories to their children at night, but wouldn't it be special if a child could see themselves in their very own bedtime story? With personalised story books, they can! Gifting a personalised story book can be a magical moment as you show a child their name in writing. Then make sure to include a sweet message on the title page to remind the baby how much they're loved. Read our How To Create A Storybook blog post to get you started.
Make A Custom Set of Playing Cards With Baby's Photo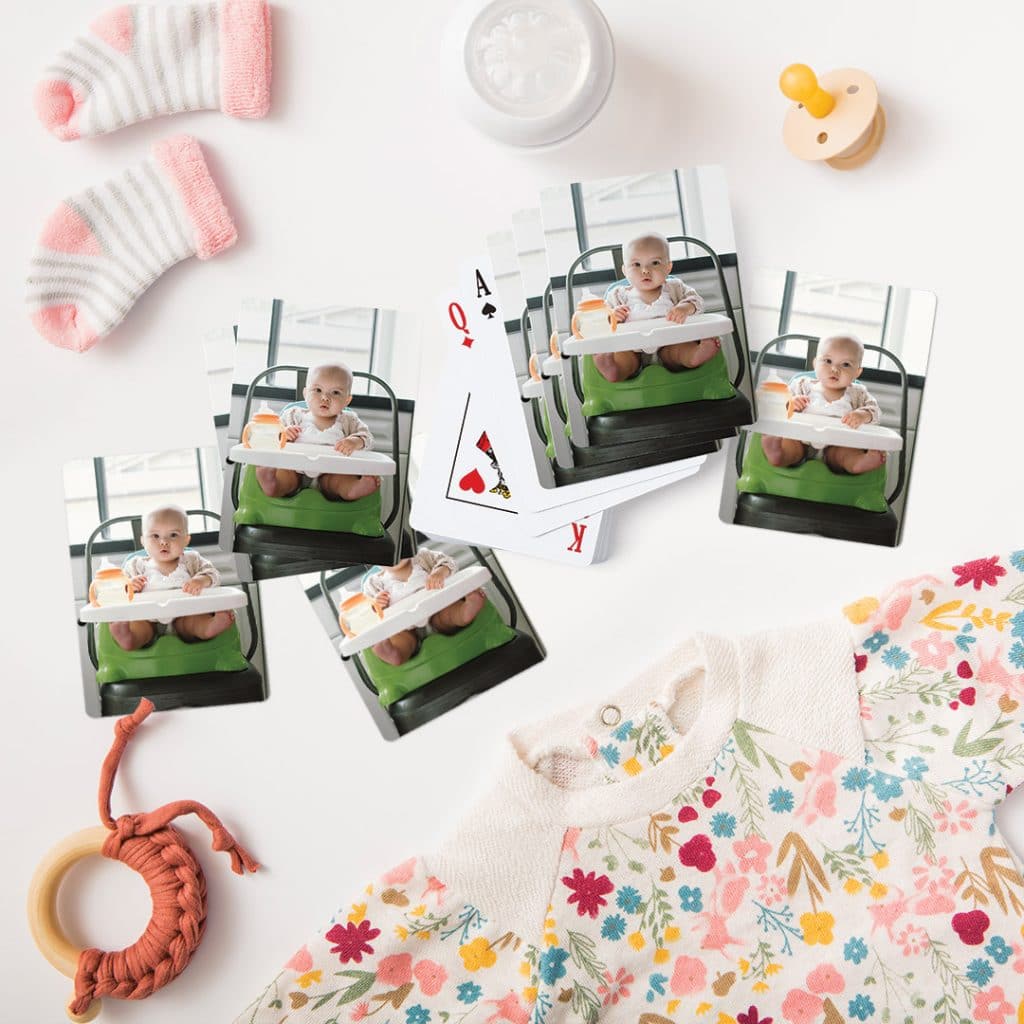 Gifting a custom deck of playing cards is an interesting and special way to show both a newborn and their parents you're thinking of them. You can include a picture of their little one or their family on the set of playing cards, as well as their name and date of birth. Baby will love pointing themselves out on the playing cards, and you playing "snap" with them once they're old enough!
Showcase Baby's First Year In A Custom Calendar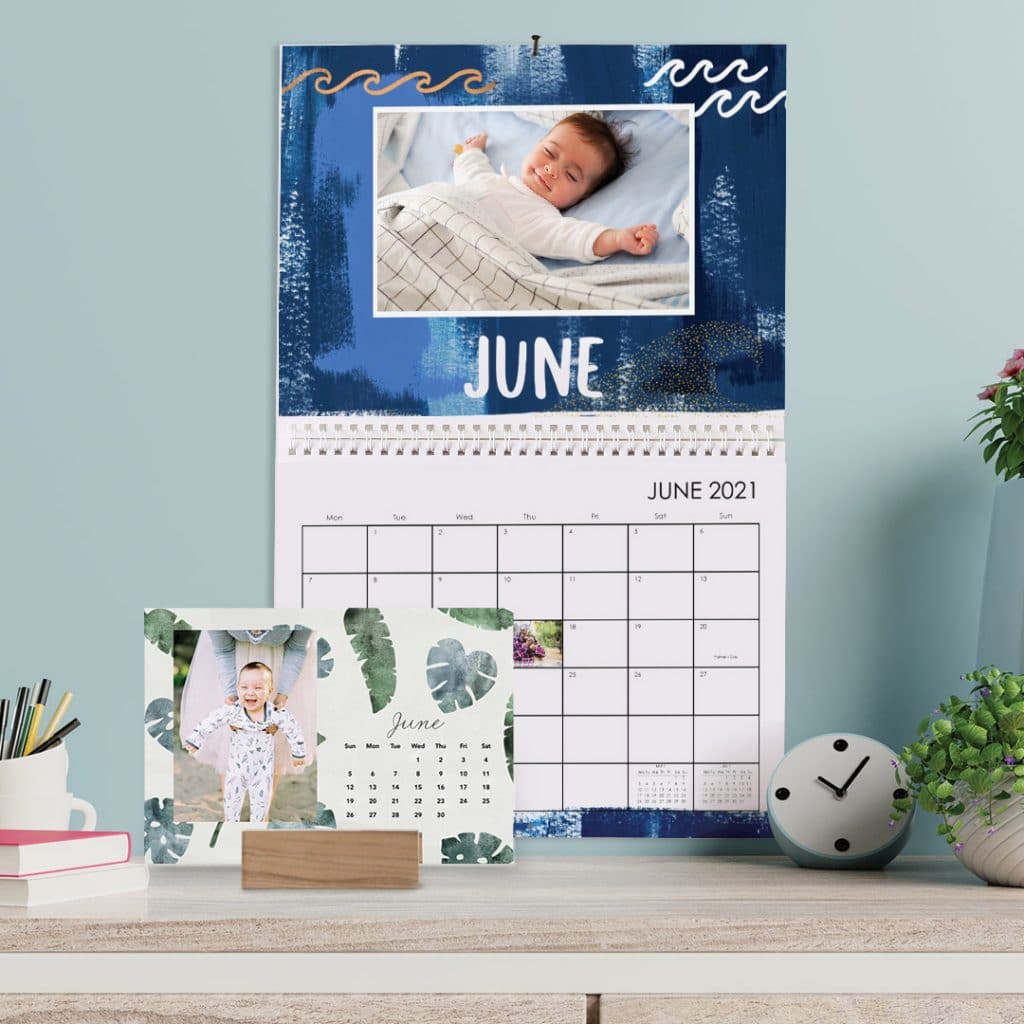 A custom calendar can be a unique gift for new parents of a baby or a young child. You can also create custom calendars that include photos to document a baby's first year and their cutest moments as they've grown. Fill the pages with photos from their birth (or baby bump), and their biggest milestones like meeting their family members for the first time and their first smile. Remember to add in the FREE special dates to call out their birthday with a photo and text. Photo calendars are a unique gift that makes the perfect baby keepsake for parents and grandparents to display proudly at work or at home.
Create Nursery Decor With Matching Changing Mat Towels, Cot Blankets And Nursing Chair Cushions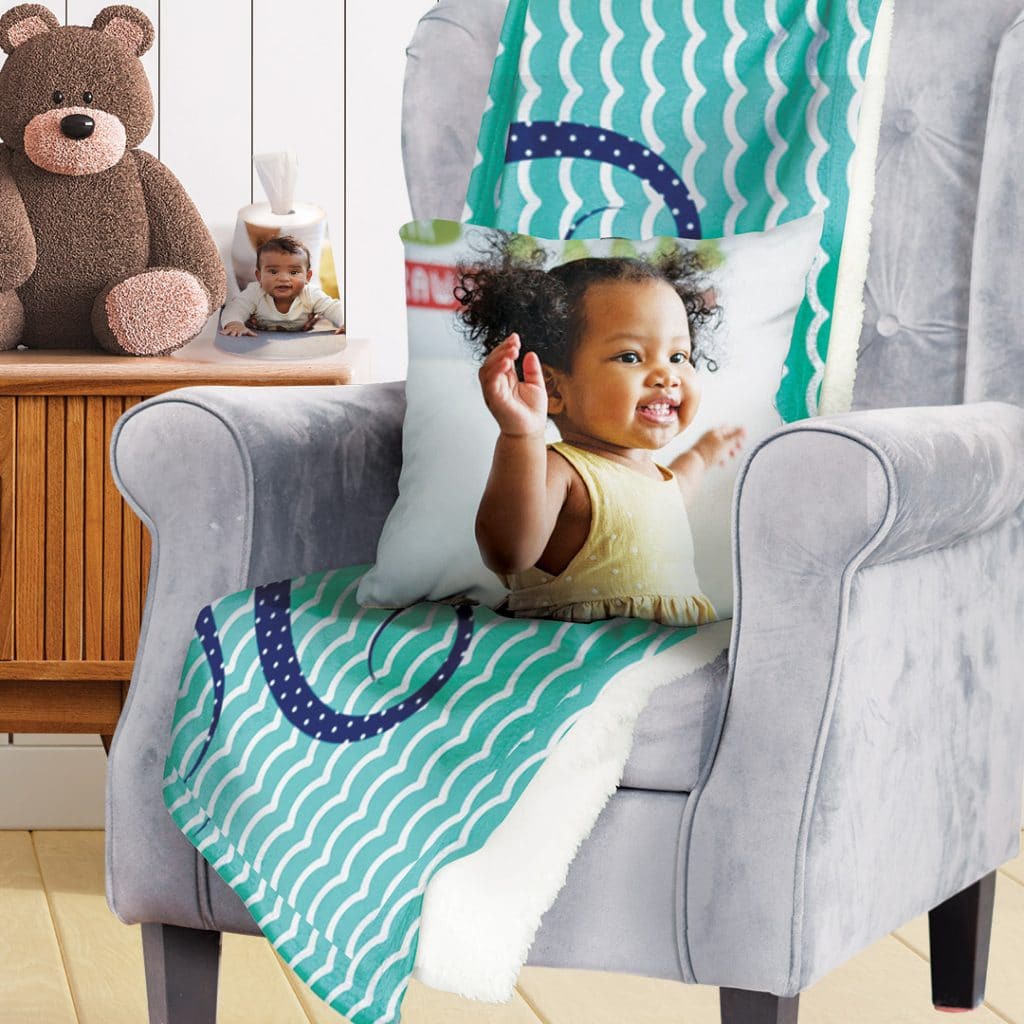 A personalised set of soft furnishings for the nursery with a child's name on it can be a special gift for a kid of any age. When the baby is young, the parent may use the cushion to prop the child up against, the blanket to snuggle into on the nursing chair, when they read the child bedtime stories and the personalised towel to dry them in after bath-time. As the child grows, the child may enjoy cuddling up on the blanket and feeling cosy in their own space too. This custom baby gift is a great way to add warmth and personality to their baby's nursery decor. Another great Snapfish Hack, is to create a personalised plant pot, turn it upside down and use it as a cotton wool or nappy sack dispenser, printed with the little one's smiling face!
Custom Wall Art Is The Perfect Gift For New Parents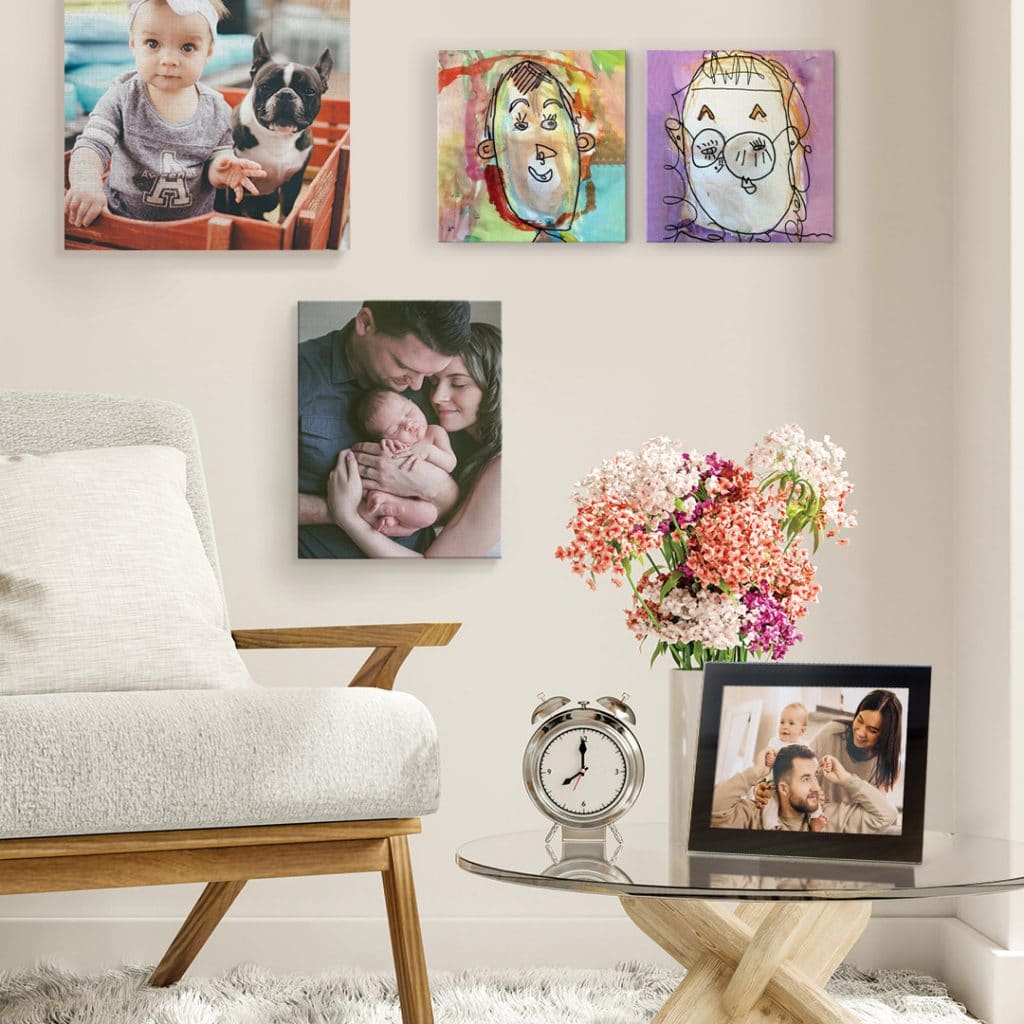 You can never go wrong with gifting a personalised set of canvas prints featuring the new arrival. When choosing the best personalised baby gifts, many parents are eager to decorate the nursery with framed photos that capture their family in this special and fleeting time. Design a piece of wall art featuring their child's name, monogram, photo, or even a special quote to make the baby feel right at home. Whether you design a custom picture frame, high-quality canvas print, or frame a scanned picture of their early doodles or hand prints, this special gift will stand the test of time.
Create A Customised Keepsake Box To Store Baby Mementos In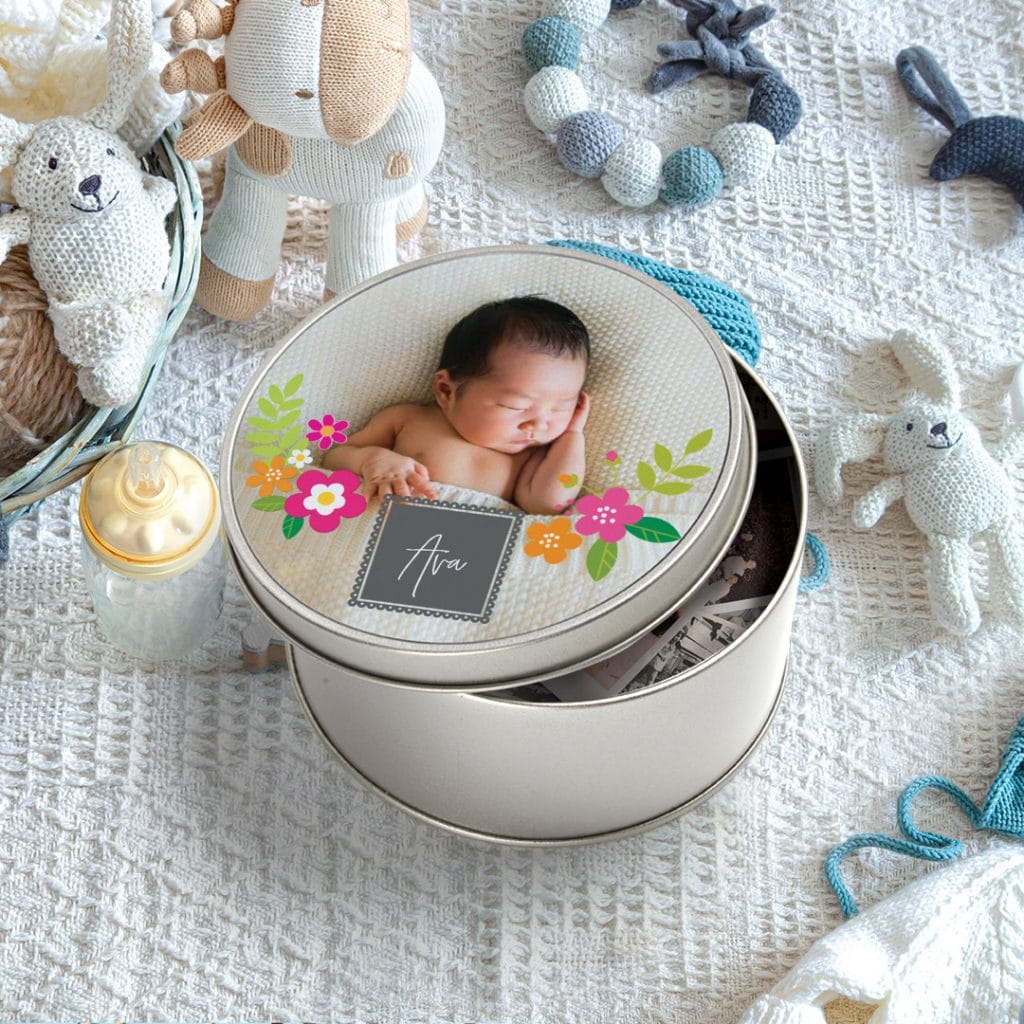 Often babies and small children receive special jewellery and other keepsakes from friends and family when they are infants that they treasure well into adulthood. Some keepsakes are passed down for generations and should be kept in a special place so they don't get lost or stolen. A personalised metal keepsake box can be a great baby gift idea to keep those special trinkets stored away, and the parents will appreciate a place to store all these knick knacks!
So many present ideas to personalise for baby
With so many options for creating personalised new baby or kids' gifts, choosing the best gift for the child or parents may seem daunting. However, you can narrow down your decision by taking the child's age into consideration and determining what type of impression you'd like to leave. Whatever you make, the gift you personalise with Snapfish is bound to leave a lasting impression and show thoughtfulness, love and care.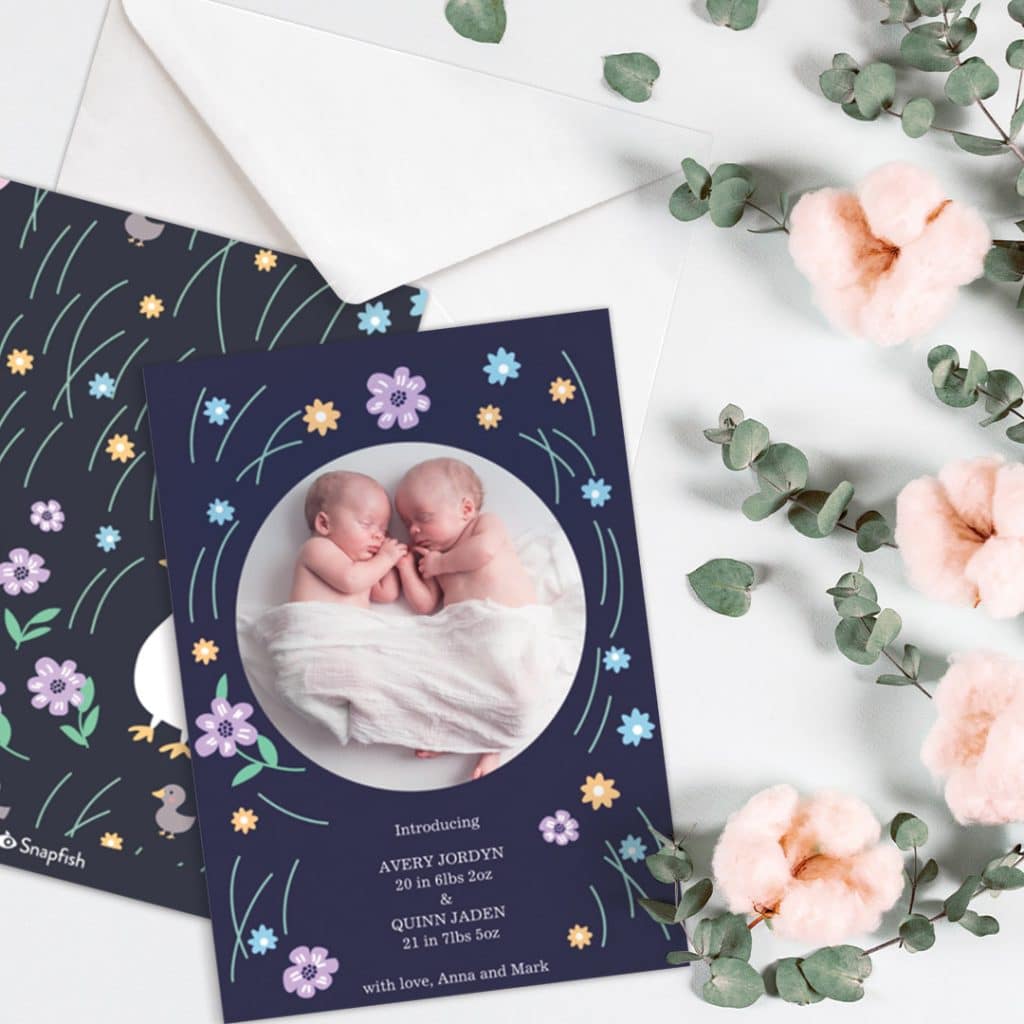 Just remember to create a personalised card to accompany the present, so everyone knows who created the wonderful gift!
Which gift will you personalise? Share it with us on social media! You can tag us with @snapfishuk in your photos on Instagram or Facebook or use the hashtag #snapfishuk. Follow us on YouTube, Twitter and Pinterest, too. Check out the Snapfish site for even more new products that parents and kids alike will adore!