Find a personalised wedding invitation design that's right for you.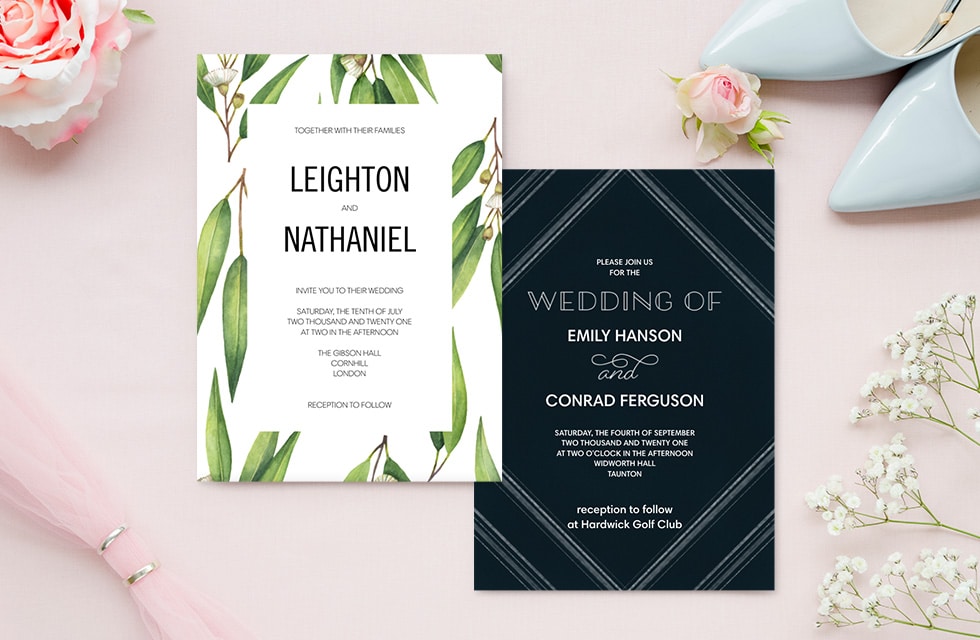 Planning a wedding can be quite daunting, from choosing a theme, picking a dress, venue, menu, flowers, hen party (or bridal shower), honeymoon and, of course, the invitations. Thankfully, this last one is a relative breeze with our easy-to-browse and customise, user-friendly wedding invitation design templates and builder tools. On top of invitations, we also have matching designs for wedding announcements, wedding programmes and even thank you cards, for every type of theme, budget, and style. Read on for tips on putting together that perfect wedding stationery collection. (We've also listed 12 of our favourite wedding invitation designs to help you get started.)
The Snapfish Guide to a Great Wedding Invitation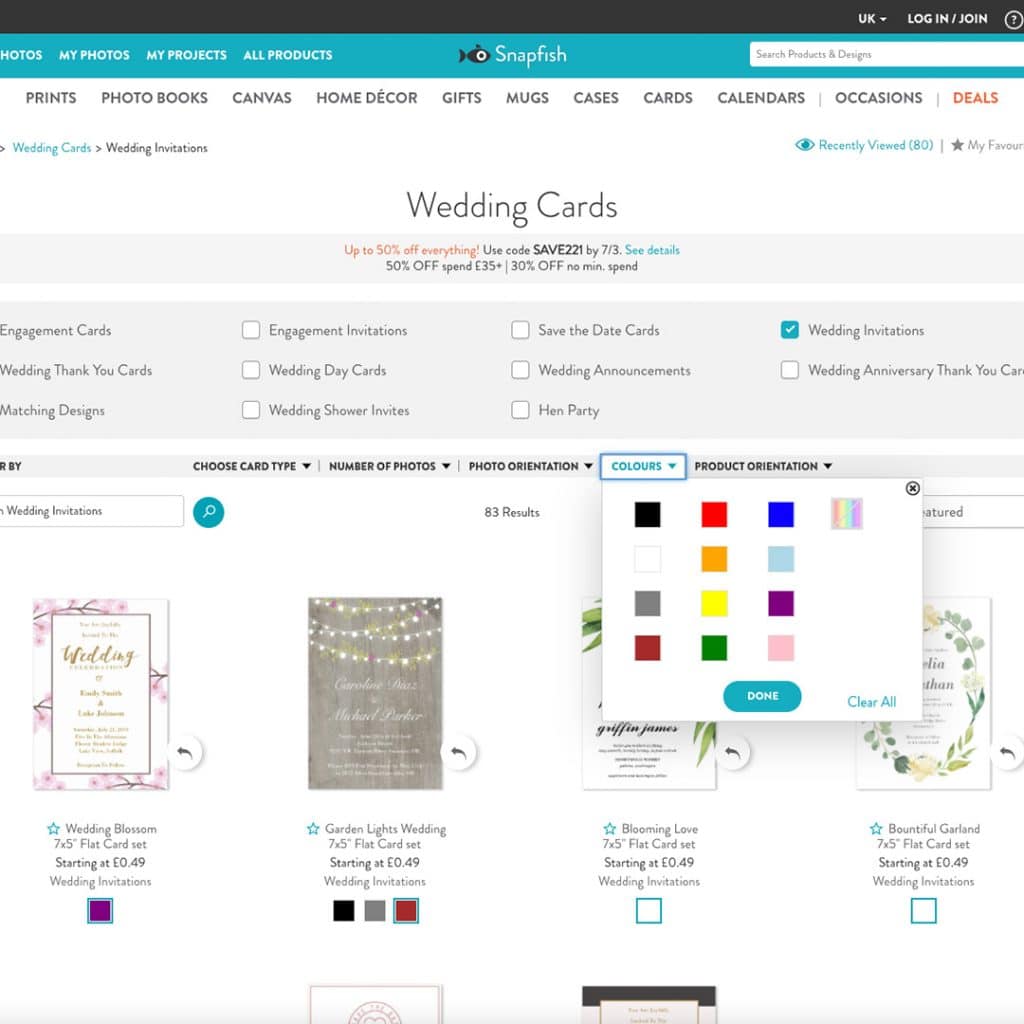 Step 1: Select colours that suit your wedding theme. (Use this colour scheme as inspiration across all of your wedding stationery.) Don't be afraid to get playful. If your wedding theme consists of neutral shades, then bold accents or rich earthy colours will give it just the right amount of pop while keeping your invitation's look consistent within the overall theme. If your wedding has more bright or seasonal shades like coral, mint green, burgundy or burnt orange, it makes sense to include these colours in your wedding stationery. Make sure to balance your design with neutral shades like whites, browns, or even black for a moodier look. You can search for designs with these colours using our pre-defined search filters.
Step 2: Select a wedding invitation design. Choosing a simple design will guarantee a beautiful invite that stands the test of time. You could always embellish the design with rounded corners, choose another pre-built design variation in the builder, change the font, or just move the elements around on the card (front and back) to get the wedding invitation layout that feels just right. Once you've chosen a general design, apply it to the rest of your stationery, including RSVP cards, menus, place cards and thank you notes. Top Tip: Once you have chosen a design you like, search for all other design instances by using our internal search engine.
Step 3: Customise the back with all the important details. Don't forget to customise the reverse of your wedding invitation with useful information like clear directions to the venue, parking information and any crucial itinerary details. Perhaps you have a wedding list online? You can easily add the link to the text on the back. You can also ask guests to submit any song requests they have, so you can make up the ultimate wedding play list that pulls everyone to the dance floor!
How soon should you send out your invitations?
It is customary to send out 'Save The Date' or 'Wedding Announcement' cards a bit before the actual formal invitation. For those of you who have a 12-month timeline, we recommend sending your wedding invitations out two months prior to the big day. If you're planning a destination wedding, or many of your guests will be travelling a significant distance, make sure you send 'Save The Date' cards at least 8-12 months before (so guests can plan around it). If you're going for a shorter engagement, we recommend sending your invitations out as soon as possible (ideally, two months before), especially if you have your wedding colour scheme and design ready to go.
Our favourite wedding invitation designs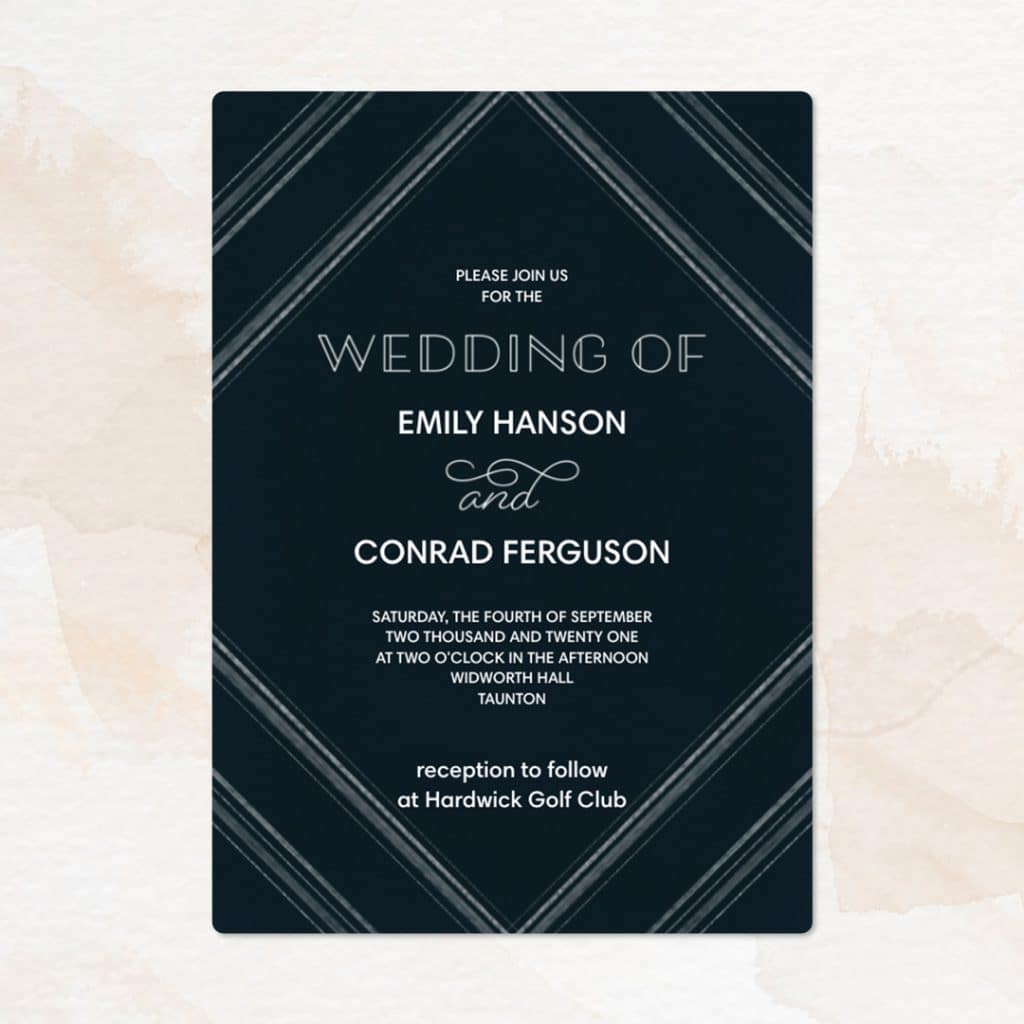 Bold geometric shapes
For a glamorous, Gatsby-esque or retro vibe, this Art Deco style is a great match. Create Navy Stripe Wedding Invitations.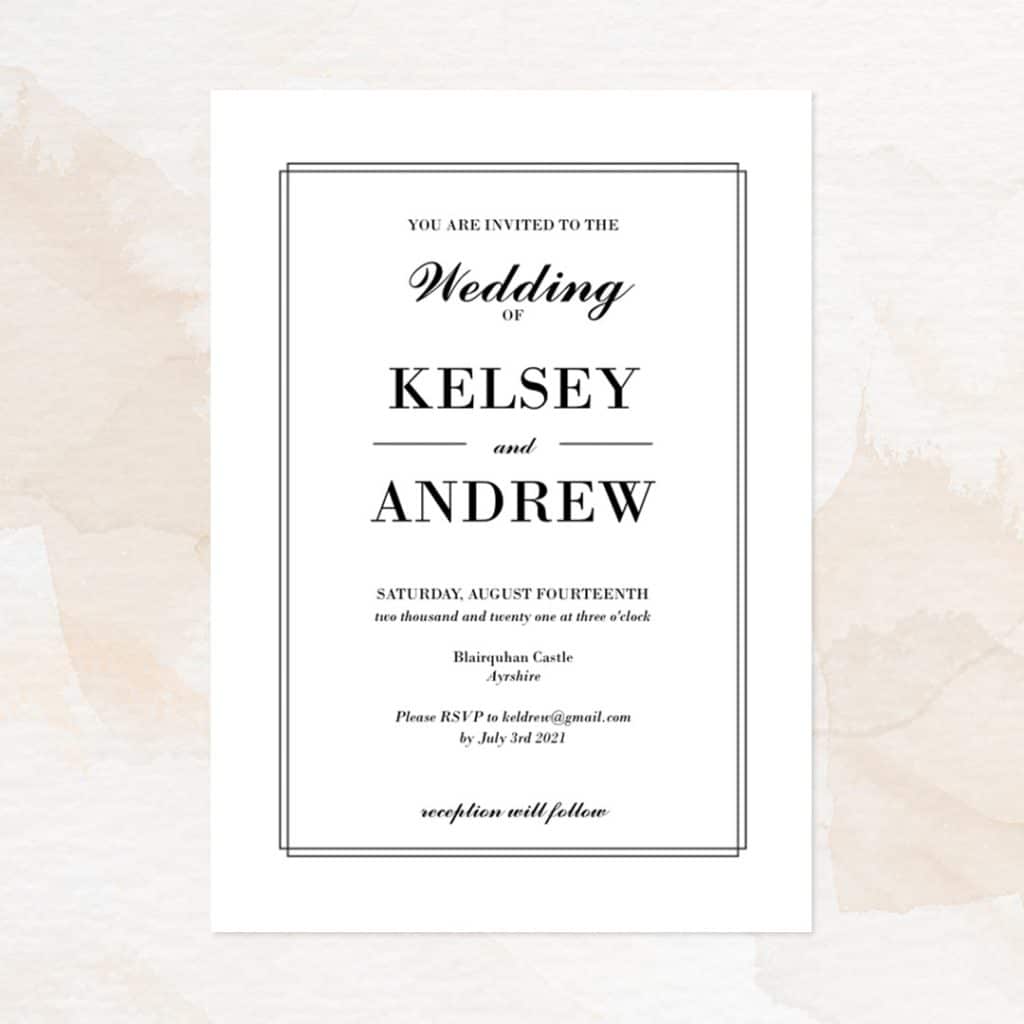 Minimalist and no fuss
Clear and concise, this design is ideal for a more understated event. Create Simple Frame Wedding Invitations.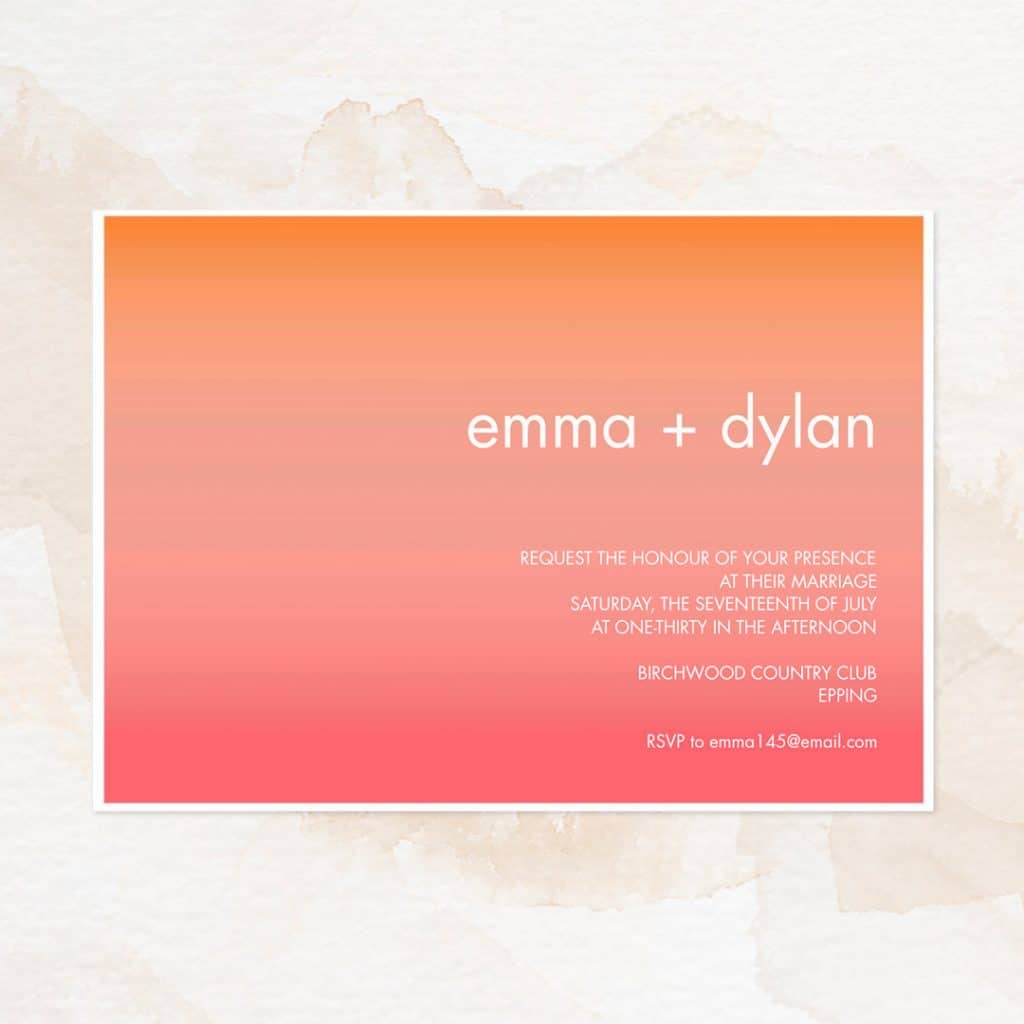 Simple font
Lowercase letters and a clean look make this one perfect for a more modern venue or theme. Create Ombre Brights Wedding Invitation.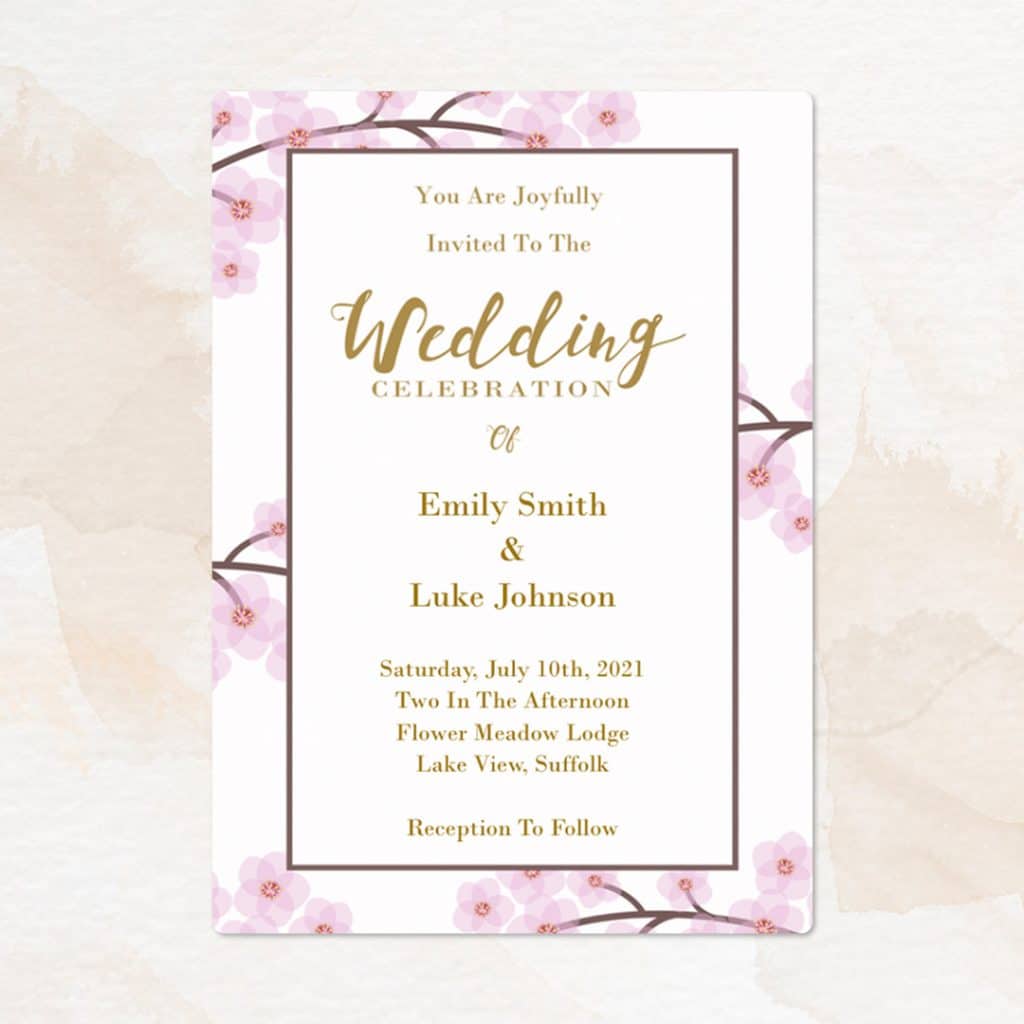 Traditional
Floral patterns and a cursive font will lend themselves well to a romantic, fairy-tale-like wedding. Create Wedding Blossom Wedding Invitation.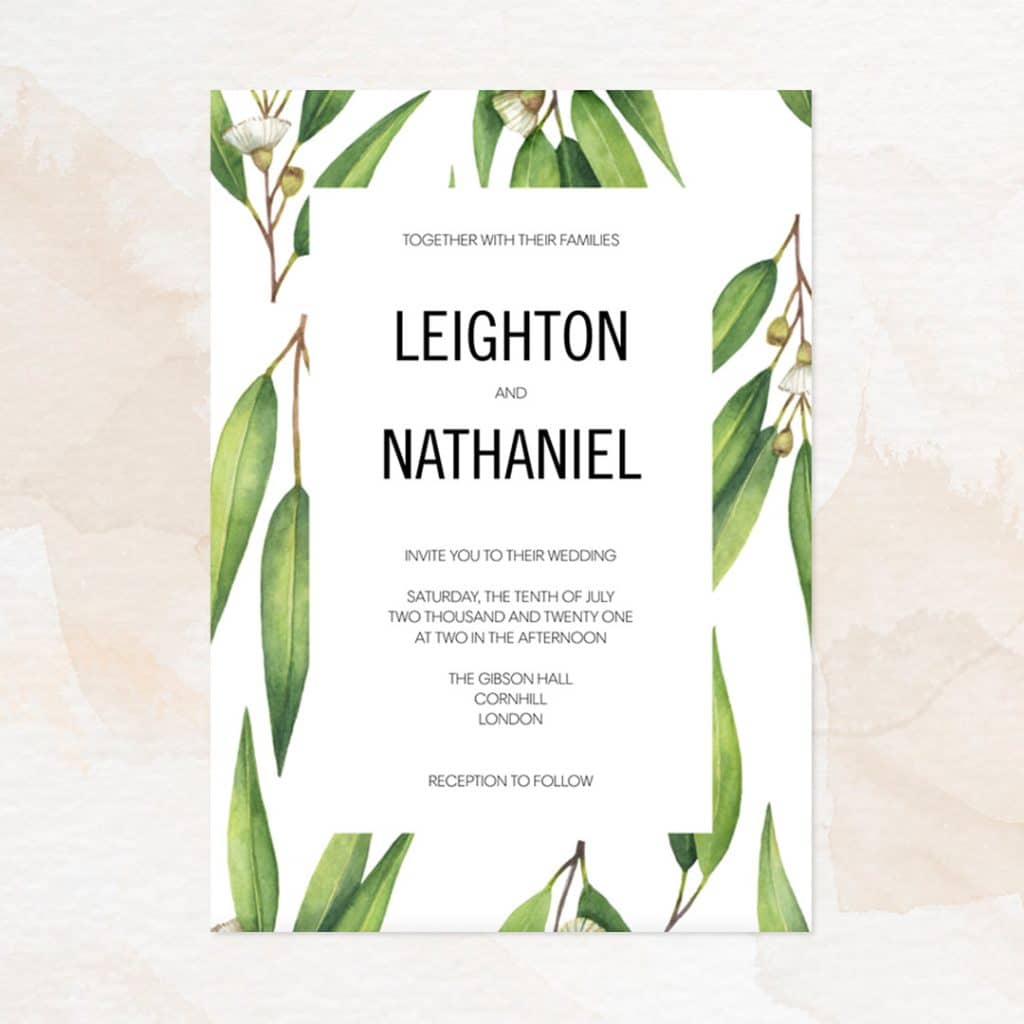 Simple greenery
Perfect for garden weddings or tropical destination weddings, this leafy look will help create a vibe. Create Lovely Branches Wedding Invitation.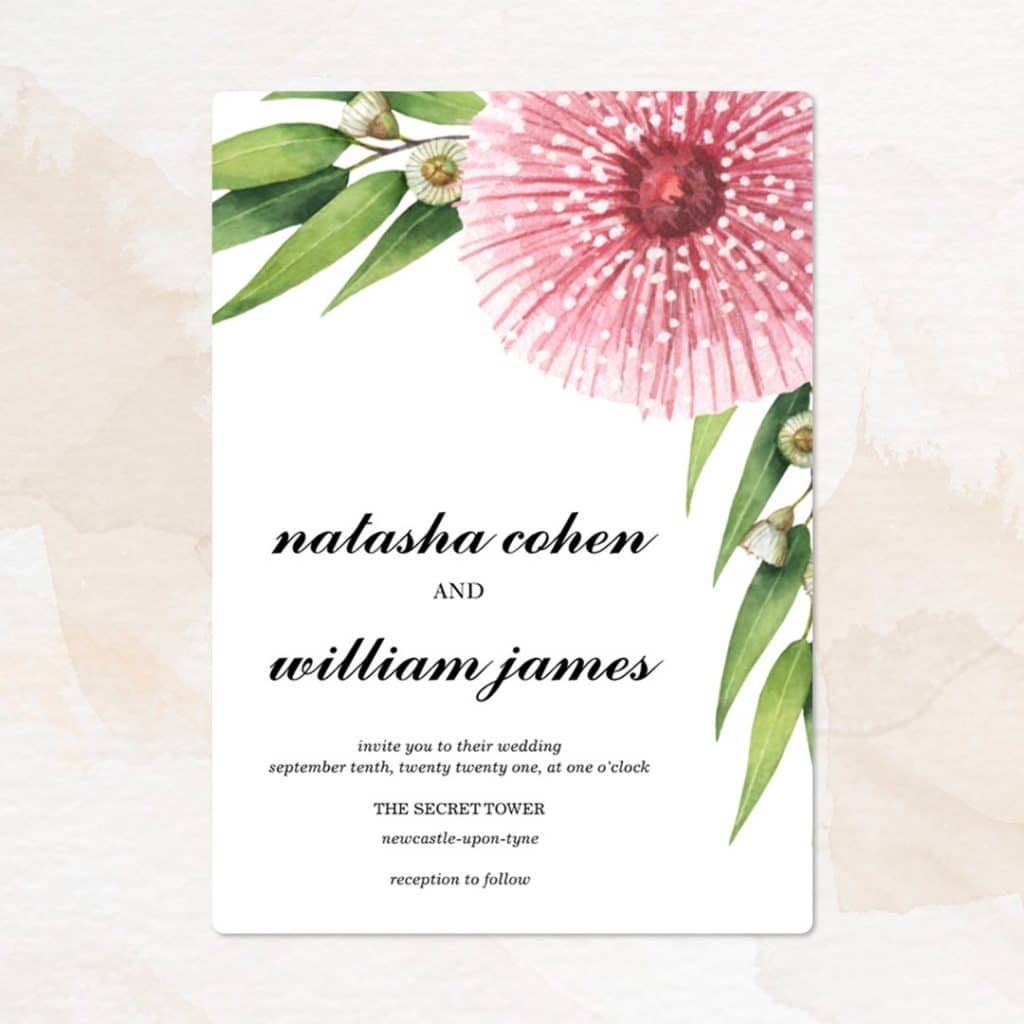 Florals
Also great for garden weddings, this brings a more clean and chic interpretation of flora. Create Blooming Love Wedding Invitation.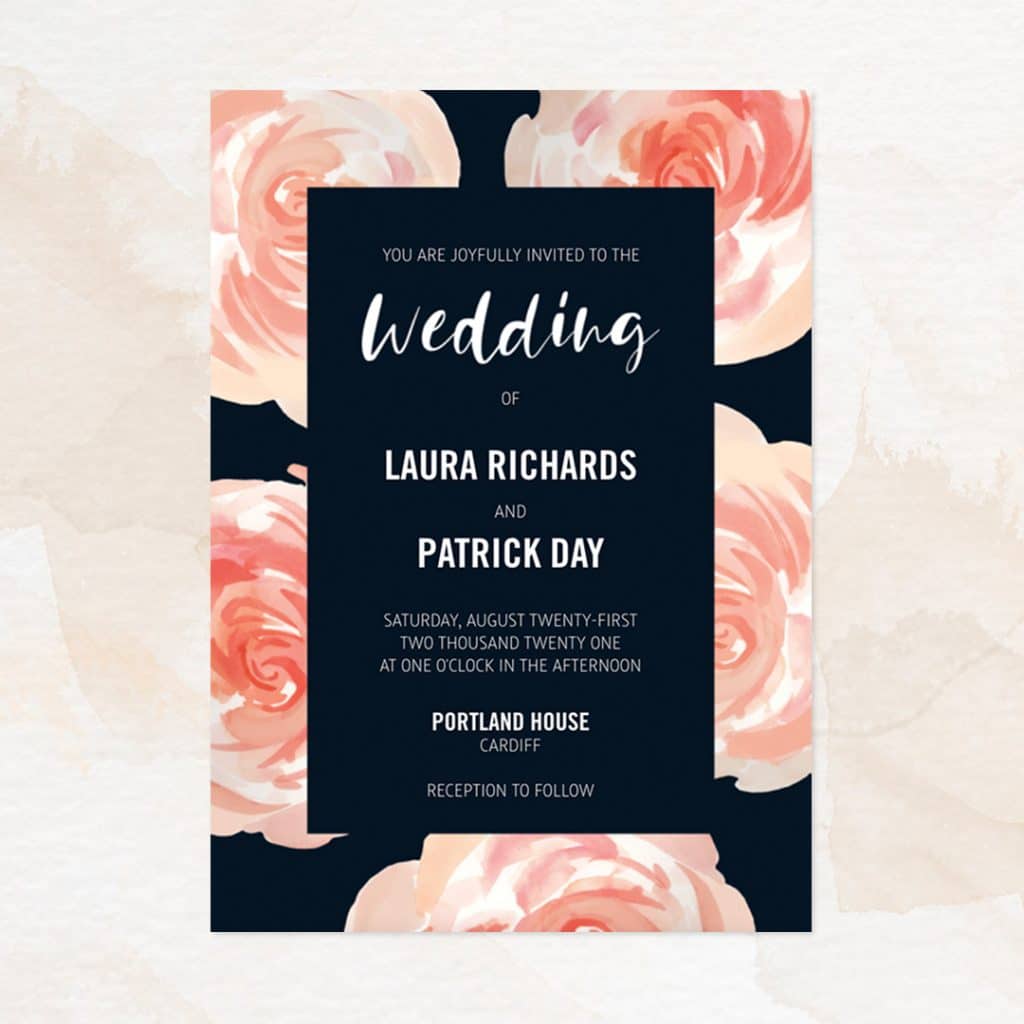 Granny-chic
Similar to the traditional design above, the use of florals evokes classic romance. Create Big Flowers Wedding Invitation.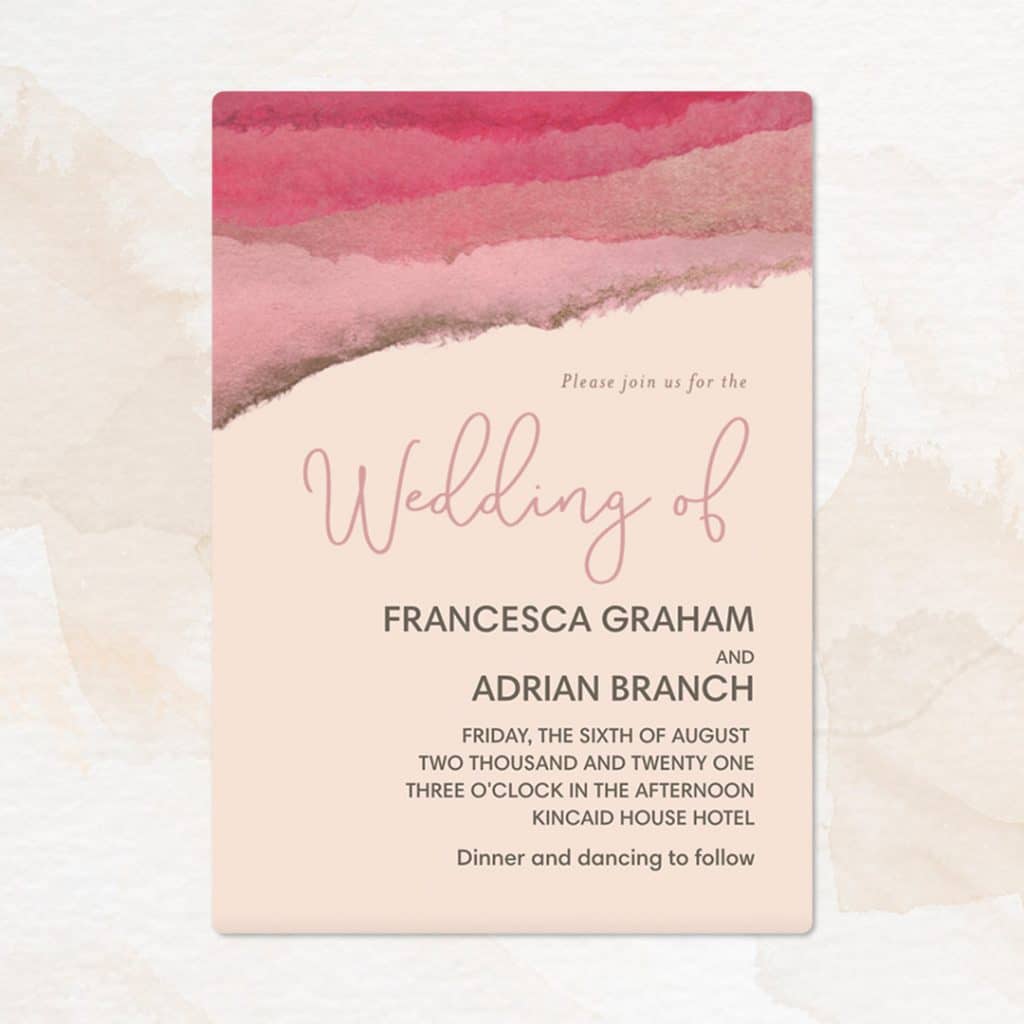 Watercolour brushstrokes
This one would really suit an arty theme or modern venue, such as a museum or gallery wedding. Create Quartz Program Wedding Invitation.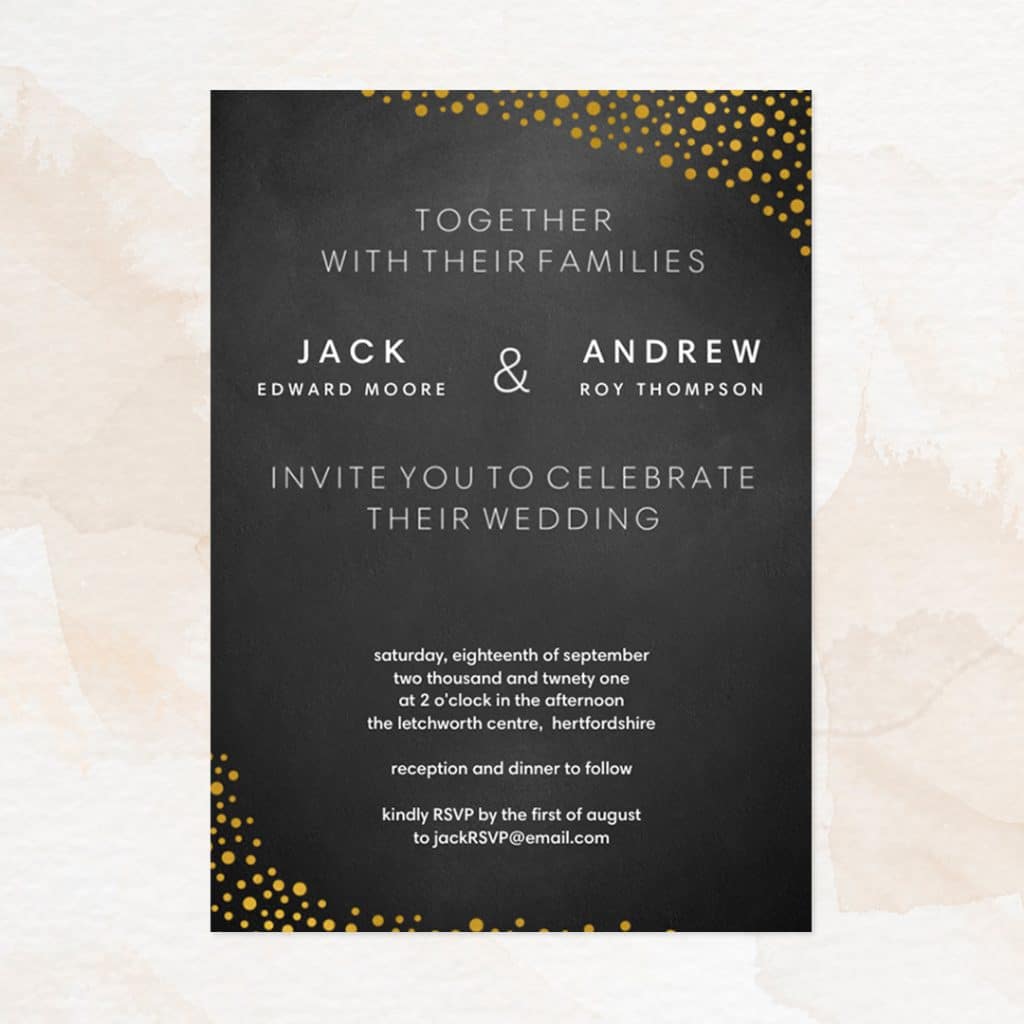 Chalkboard
Ideal for a smaller wedding or intimate ceremony, this design is simple yet effective. Create Sparkling Invitation Wedding Invitation.
Photographic
This card is perfect if you want to make your guests feel very relaxed about the event. It's unfussy and intimate, but also sweet and romantic. Create We Do Wedding Invitation.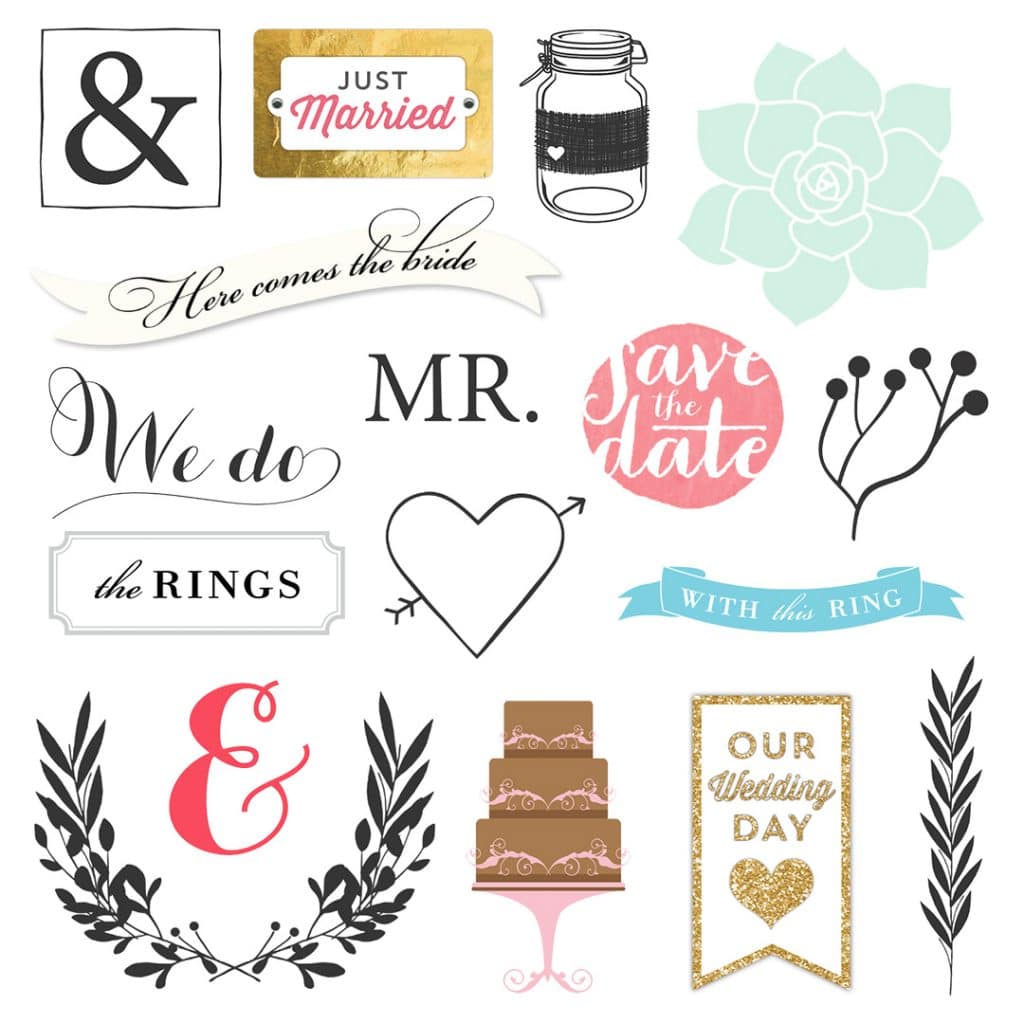 No wedding is complete without a wedding album. (And, naturally, the most charming albums are personalised with wedding embellishments.) Get inspired with our blog post on wedding embellishments.
Hopefully, we've removed some pre-wedding stress for you with our tips on creating your ideal invitation. We love seeing what you create, so please tag us with @snapfishuk or #snapfishuk on social media. Find us on Facebook, Instagram, Pinterest and Twitter. We've also got some fun How To tutorials on our YouTube account. Enjoy!