Showcase Mum at her radiant best, complete with bump! Whether it's a gift for a baby shower, a Happy Mother's (to-be) Day gift, or you simply want to appreciate a mum-to-be by picking up a nice present for her, we've pulled together some perfect ideas.
Personalised Gifts such as canvas prints and cushions are perfect, without breaking the bank. Most friends and loved ones will give gifts for the baby, especially at Baby Showers – but we're here to show how you can make sure the Mum-to-be gets treats too!
Personalised cushions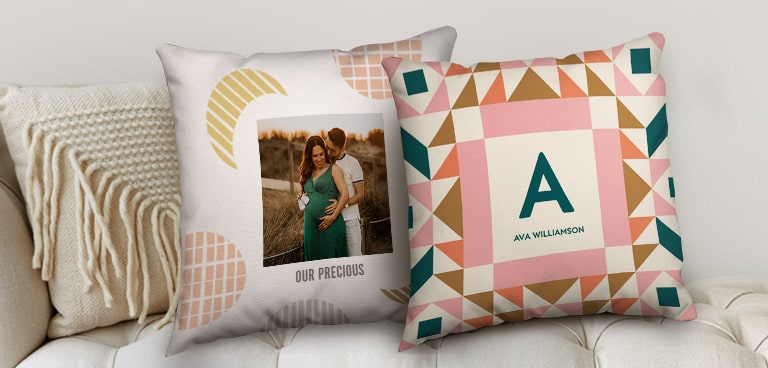 All Mums-To-Be need to take it easy sometimes – and soft cushions for resting on are always going to be welcome to a pregnant mum – it is so easy to make them special with Snapfish! Upload a favourite picture – maybe of the bump, her at her baby shower or any cute picture of her that will bring awesome memories. Upload these pictures on the Snapfish app, or directly to the website using your computer, select your cushion size and shape. decorate with our baby themed art (photos or text), and leave the rest to us.
Our photo cushions come in a range of sizes, both square and scatter shapes, and are made here in the UK. Soft, plump material and filling gives a luxurious feel – and you can design like a pro in minutes from your computer or mobile device with our pre-defined designs and templates.
Tip: Team them with a cosy custom fleece blanket for ultimate nursery luxury (or so she can snuggle up with them on the sofa).
Personalised Photo Book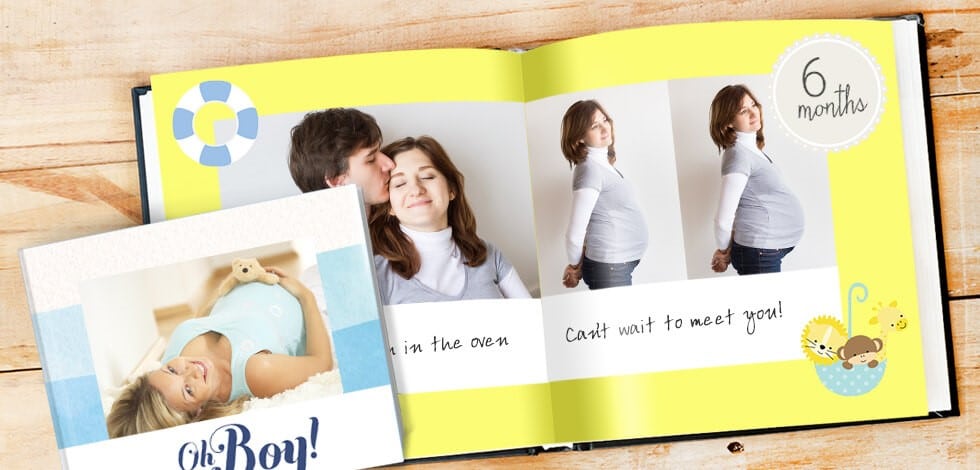 Giving her a bump-to-baby photo book that has different pictures of her during the pregnancy, along with some parenting tips to go with it will surely wow her. Maybe you could involve her mum, and include memories of how her pregnancy went – or fill it with tips and tricks learned from other new mum friends. A New Mum photo book brings all her pregnancy memories together and is guaranteed to always make her smile. She, and the whole family, can look back on this in the years to come, as they celebrate family milestones, go to college, get married and maybe even welcome new family arrivals.
To make it easier for you, you can upload photos from your social channels or phone. Photos can be quickly and easily auto-filled in the photo book for you, and you can change the layouts yourself at the drag of a mouse. We have dozens of layouts and designs to choose from at no extra cost. Photo books come with 20 pages as standard, but you can have up to 150 pages, in case you can't choose between all your great photos!
Framed Prints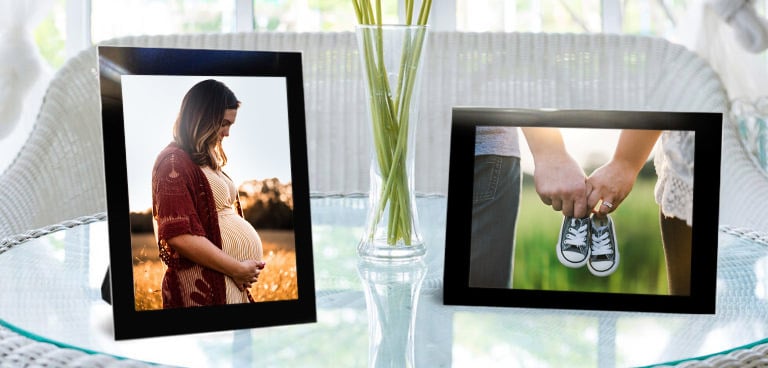 You can never go wrong with this personalised gift! Snapfish has a lovely range of framed photo prints. Framing a lovely picture of the mum-to-be using her Instagram or Facebook posts is one personalised gift idea that will not only impress her but will be totally unique. Get a picture of her showing her baby bump, upload the photo to Snapfish, choose your frame size, then leave the rest to us.
Whether you prefer large or small framed prints, table-top or wall mounted, this is a personalised gift to suit any home. If you choose, you can decorate your print using our embellishments, it's so easy, just drag and drop.
Personalised Canvas Print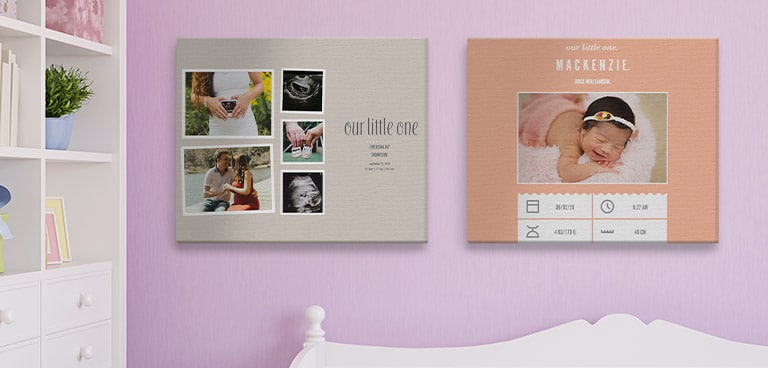 Create a bump-to-baby collage canvas print layout for Baby's room – so Mum can remember the excitement of her and her unborn child. What a way to celebrate the event, and an easy way to decorate the nursery. Choose from a variety of colours to tone beautifully into any colour-scheme. Available in two ranges, Premium and Slim and lots of sizes. Our canvas sets of 2, 3, 4 or 6 small canvas prints are a quick way to brighten up those empty nursery walls too.
With Snapfish's simple design tools, you can create beautiful canvas prints like a pro. Your canvas creations will make Baby's room look amazing and celebrate the bump!
*Tip* The square canvas prints work brilliantly with Instagram photos she might have shared and you can now buy Canvas Sets to make it easy to create an unforgettable gallery wall in your home.
Personalised Mugs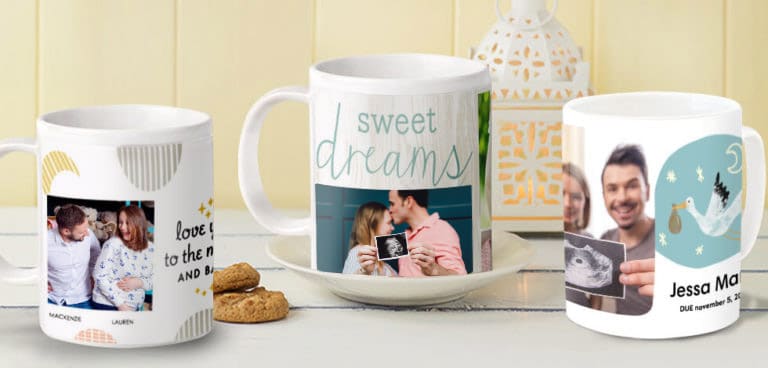 Did you know we have some gorgeous mug designs for new mums and babies? These personalised mugs always go down well with grandparents too, so why not order a matching set? Being pregnant is an unforgettable and a wonderful period in the life of a mum to be. Now she can remember it with her morning (or likely middle of the night) cuppa!
The photo mug is a firm favourite; prices start at just £7.99 – and we have a range of designs and colour options to make it a cinch to create an unique mug to celebrate the Mum to be.
Just add one or more photos, select arty touches and leave the rest to us. You can upgrade her mug by adding a coloured inside or take a look at our Travel Mugs & Insulated Water Bottles for mums on-the-go.
Create Baby Milestone Cards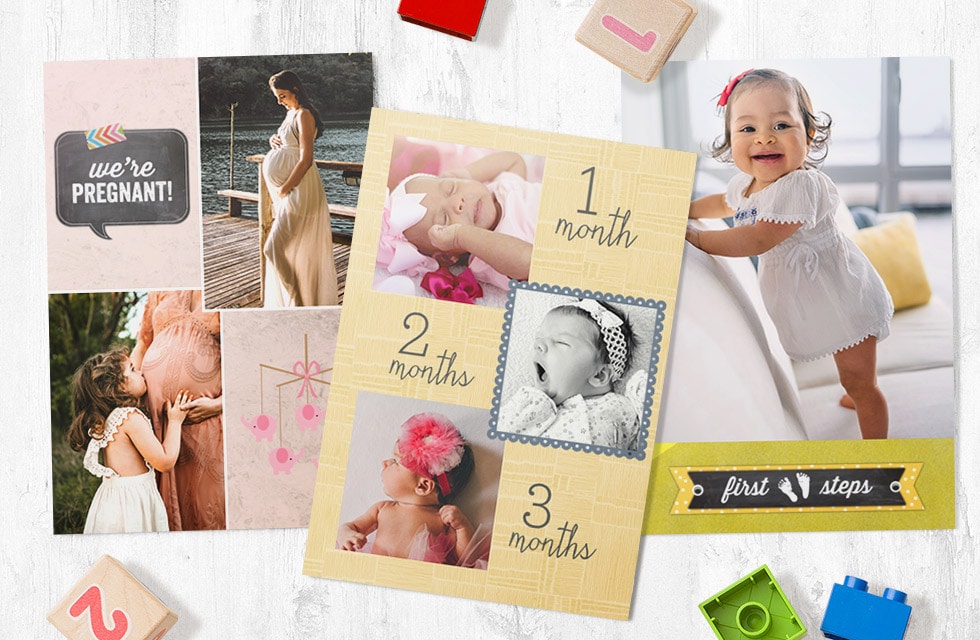 Create a set of unique baby milestone cards using Snapfish Photo Prints. Find out how (https://www.snapfish.co.uk/blog/what-are-baby-milestone-cards-and-how-can-you-create-them-with-snapfish/). We created these using Snapfish collage prints with text and embellishments.
Mum-to-be to be will love this thoughtful gift as she gets ready for the birth, and it is a fun thing for Dad to create.
---
With more than 20 years' experience creating personalised photo presents right here in the UK, you can rely on us to create your gift. If you prefer to use our free photo app, just search Snapfish on the Google Play or iTunes store and download (you get 50 free 6×4″ prints a month when you download the app); you can use you website on a PC or on your phone too. Opt into Push Notifications & CRM newsletters to make sure you hear of our great deals.
We'd love to see the personalised Mother's Day gift creations you make for a mum-to-be! What did you choose, what kinds of photos did you select – and how much did she love it! Please remember to tag us @snapfishuk and #snapfishuk when you post your creations on Facebook, Twitter, Instagram or Pinterest.