You thought collage had gone? Do not fret, we are here to show you how you can create collage coasters and photo gifts!
In this example, we will be creating collage coasters, however the process is very similar across all Snapfish products!
1. First step, choose your favourite photos and add to your project. You can select multiple photos to use on your coasters.
2. Some products have more pre-made collage layouts available than others, however this does not restrict your collage layout options! With the new Snapfish builders, you can get as creative as you like.
3. In order to start creating your collage coasters, drag and drop an image onto the original single image template, and then press the shuffle button.
4. Shuffling your layout should give you an area of 'white space' on the template where you can drag and drop the rest of your chosen photos (at this stage the placement of the images doesn't really matter).
5. Once you have added all of your chosen images, the easiest way to create an interesting layout is to use the shuffle button. Each time you select the shuffle button it produces a completely new layout. NOTE that shuffle does not move non-photo objects like text and embellishments.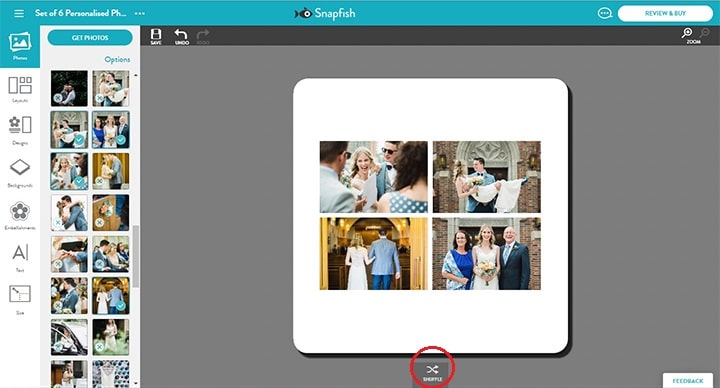 6. Keep shuffling until you find a layout you are happy with! If you want to revert back to a previous layout, press the UNDO button
7. There are many ways you can edit a layout. You can ADD additional photos by dragging and dropping photos from your photo well. You can edit the size, orientation or location of photos in the layout using the tool bar. Or you can edit layouts by deleting photos. When you delete a photo from a layout note that its frame remains on the coaster. You can also remove the frame by using the "Delete" button on your keyboard again.
8. When moving your photos around, note the bright pink lines. These help you to align your photos.
9. You can use the Backgrounds icon to change the background on a coaster. Backgrounds include colours, textures, patterns and collections.
10. Our rich library of clipart embellishments will help you to bring your creative idea to live, so add as many as you'd like to your coasters. In this example, we have decided to use a simple white square border from the Wedding folder to frame each of the photos.
There are now over 3,000 embellishments for you to choose from, so there should be an embellishment to suit every occasion. We've tried to make life a little easier for you by choosing some of our favourite wedding embellishments, basic embellishments and travel embellishments for you to choose from. Find more Embellishment ideas on the blog.
11. The Snapfish photo gift builder now gives you the option to add text to your projects! With over 40 font options to choose from there is plenty of choice! You can also change the font size, font colour and overlay a mix of fonts to make your message stand out.
12. Once you've completed your collage coaster design, click 'Review & Buy'. This is what your coasters will look like when they're printed.
All featured embellishments can be found in the Wedding folder> Wedding.
All featured embellishments can be found in the Arts & Crafts folder > Scrapbooking.
All featured embellishments can be found in the Family & Friends folder > Family.
All featured embellishments can be found in the Basic folder > Phrases / Ribbons.
All featured embellishments can be found in the Basic folder > Frames & Corners.
With these tips, we're sure you'll be creating fun, engaging collages like a pro. Be sure to share your collage picture creations with us with us on social media! You can tag us with @snapfishuk in your photos on Instagram or Facebook or use the hashtag #snapfishuk. Follow us on YouTube, Twitter and Pinterest, too. Check out the Snapfish site for even more new collage photo products.