How to send a wedding announcement during a pandemic.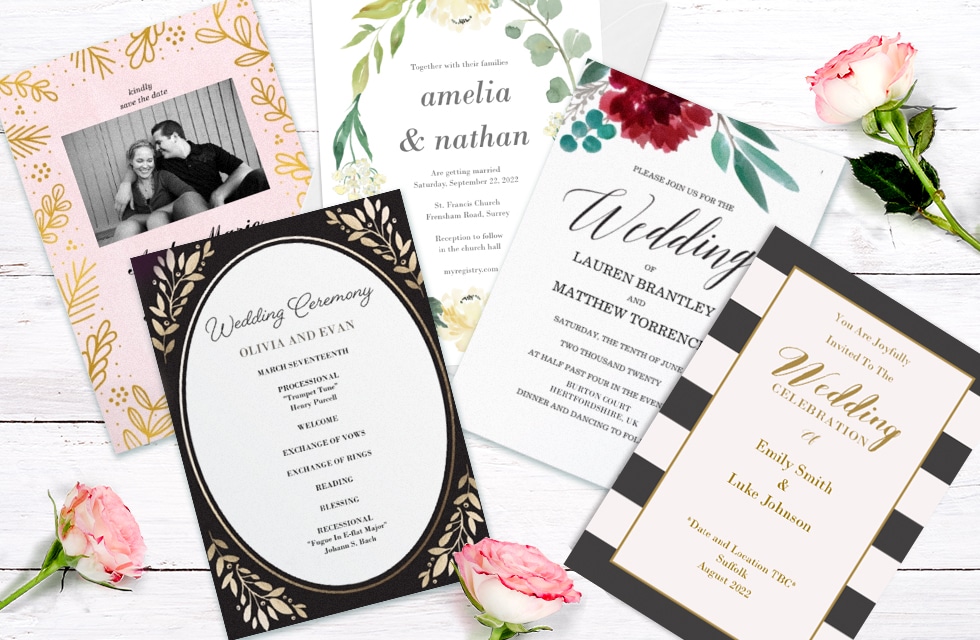 No matter how you plan to celebrate, share your joyful and important news with personalised engagement cards or wedding announcements. As the pandemic changes the way the world connects, celebrates and communicates, we are here to help you share key life events and milestones that are sure to lift the spirits of loved ones near and far.
Read on for tips on everything from engagement photo inspiration ideas, to wedding announcement wording and etiquette, and even designs for this time of uncertainty. With easily customisable designs, you won't need to add a date to your wedding announcement so your plans can stay flexible!
Customise your heart out
With our customisable card designs, you can still create a fully personalised engagement card or wedding announcement without having to worry about adding a date. Even though times are uncertain, you'll still be able to celebrate your wedding news in a typical manner. And if you have to scale down the event to meet the latest government guidelines, consider the following micro-wedding announcement card ideas below (with requests for virtual attendance).
Go small
Add the date of your 'mini-mony' or virtual ceremony to your wedding announcement and include the Zoom or video link URL for your virtual guests.
Announcement with date TBC
If the wedding ceremony details are up in the air, leave out an exact date and simply share your happy news.
Wedding announcement with sequel wedding date planned
If the original wedding ceremony had to be scaled down, don't leave your loved ones hanging. Invite them to the bigger wedding party in 2022 when everyone will be able to celebrate together, in person.
Make your own wedding announcements
A wedding is more than just one day – it's about celebrating a lifelong commitment to each other. This milestone is worth sharing with those who have supported you throughout your childhood and early adulthood. In this How To guide, you'll find the tools you need to make your own custom engagement announcements, Save The Date cards and wedding announcements.
Choose your design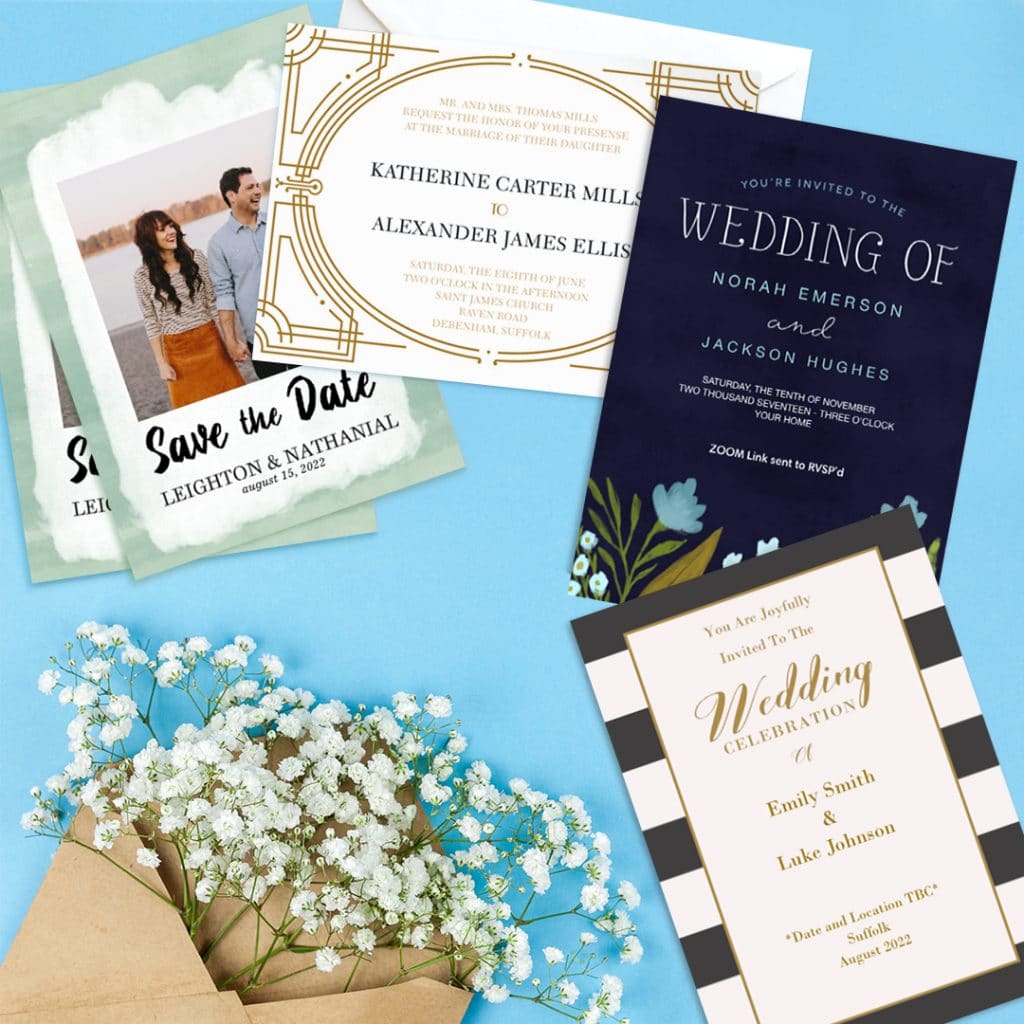 We offer a diverse array of styles, designs, and colours, for wedding announcements, ranging from bold and striking to elegant and classic, so you'll find a theme that perfectly fits your style.
Take advantage of all the trims, colours and other customisation features on offer to transform your wedding announcement into something truly unique. One of the easiest and most affordable ways to celebrate your new journey together is to design wedding announcements that you and your loved ones will want to keep as mementos.
Everyone will also love our range of wedding gifts like photo canvas prints, personalised phone cases and even blankets customised with pictures, they could easily create on Snapfish, so don't forget to include some ideas on your Wedding Gift List!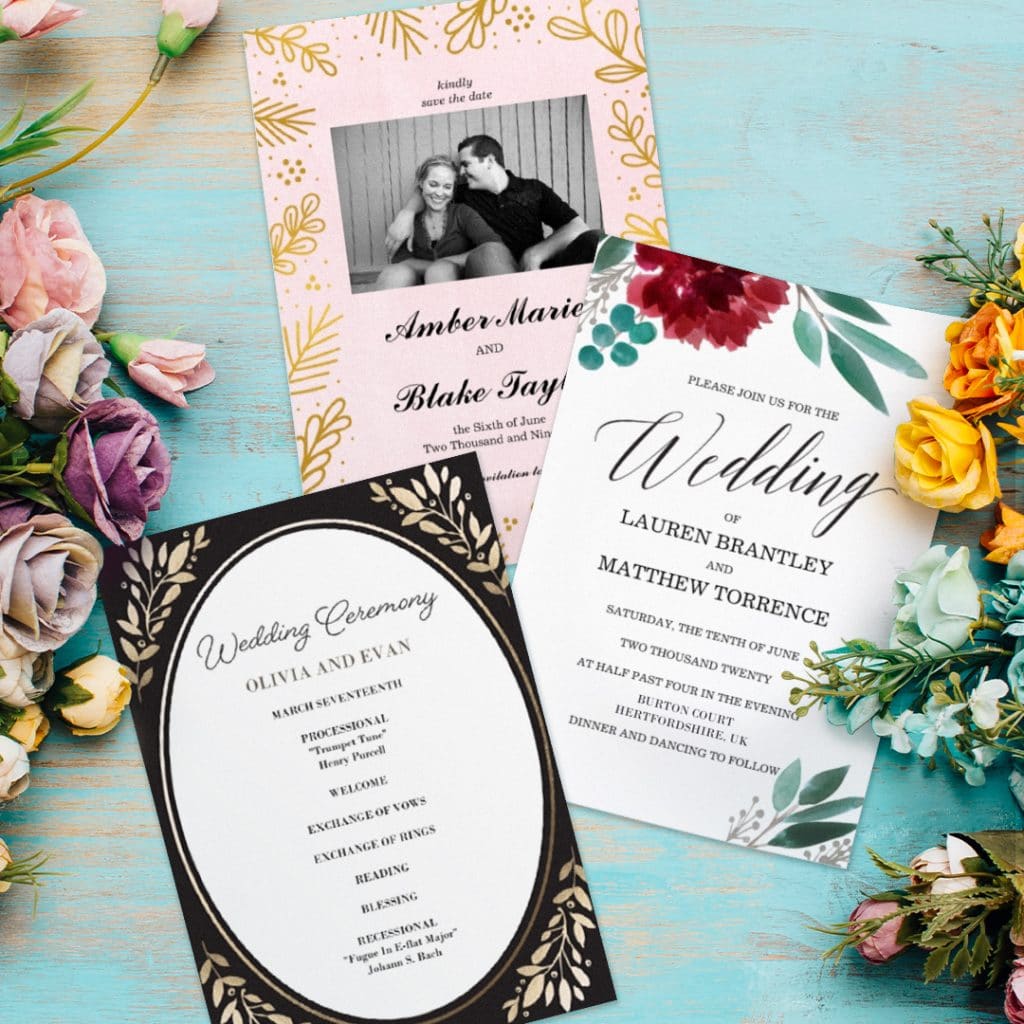 Get personal
After you've settled on a theme, you'll need to personalise the wording on your wedding announcement. Here are some key details to include: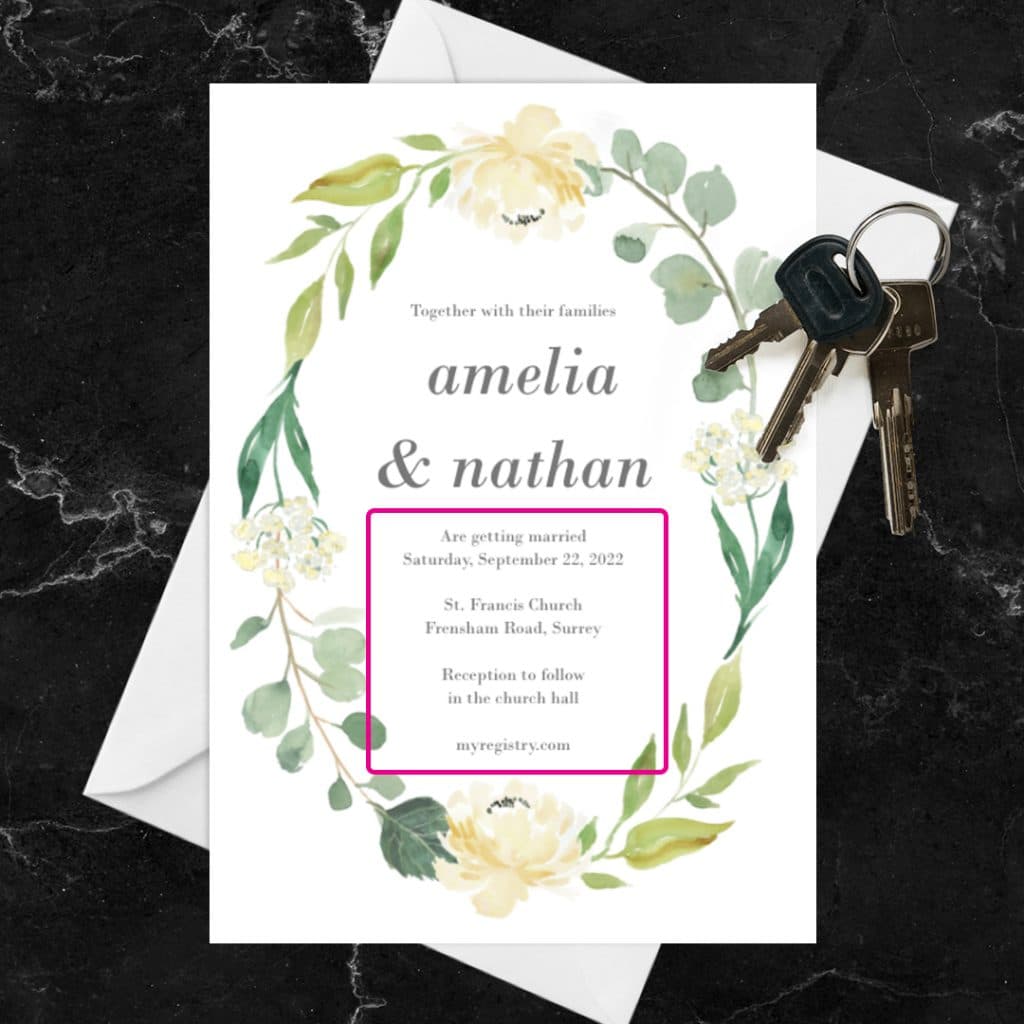 Your partner's name and the RSVP contact: Display your names somewhere prominent and make sure your guests know who to reply to!
Wedding location: Include the name and location of the church and wedding breakfast venue.
Wedding Time and Date: Make sure you clearly show the time and date of the wedding. (Don't forget the year if you are planning for 2022!)
Additional details: If you need to include more details like video call URLs, or links to the wedding gift registry, opt for a card design that has enough space to include these details.
Upload photos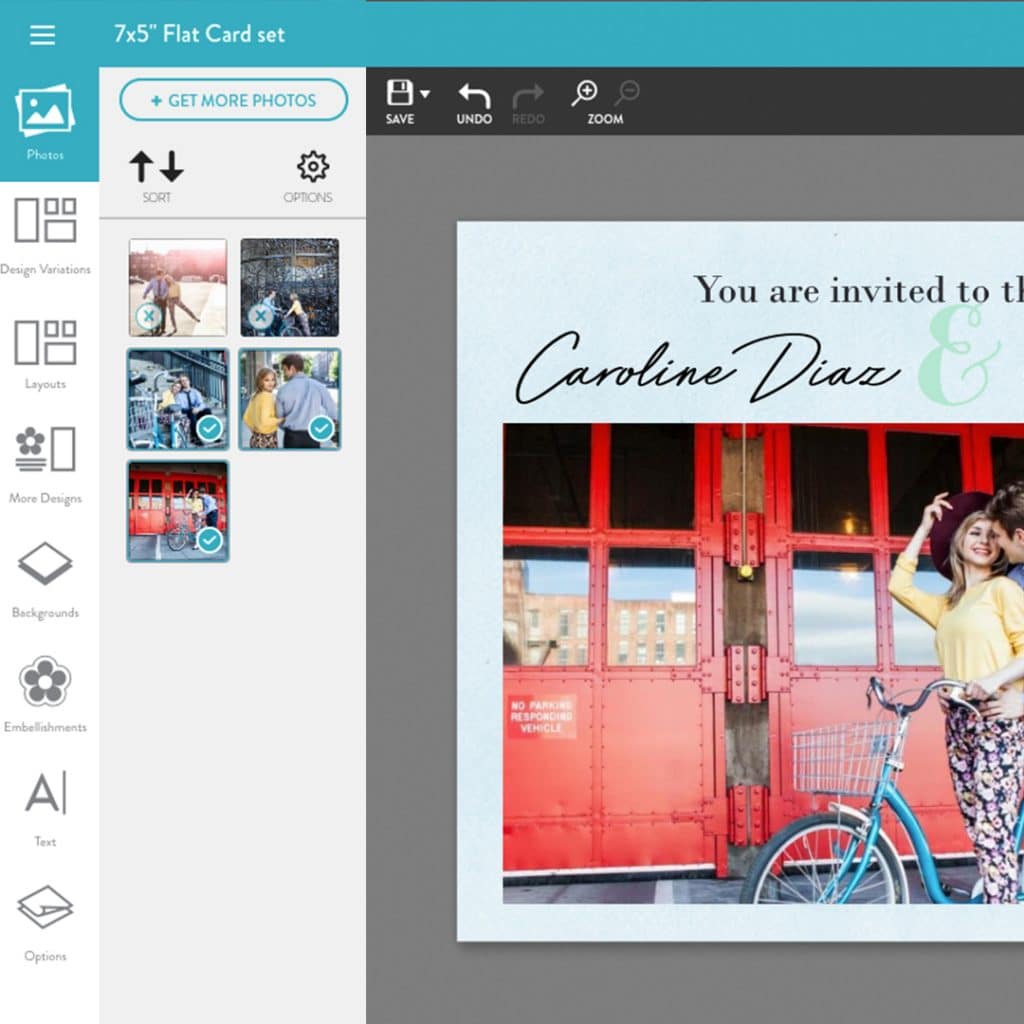 You don't have to print any photos on your wedding announcements, but if you want to show your happy faces, we have card designs that feature just one photo or a collage-style that adds more personality to the wedding card.
Preview your announcement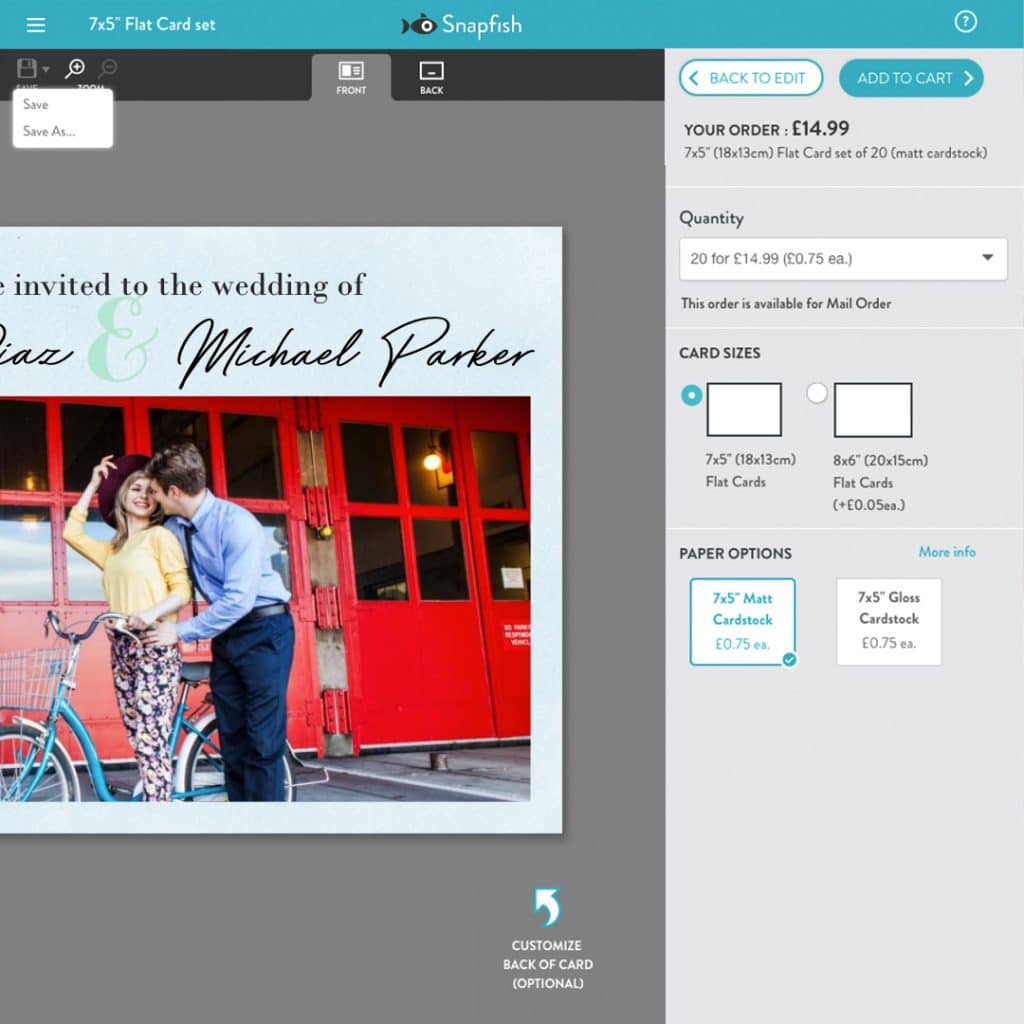 Once you have designed your personalised wedding announcement, preview it on the screen to make sure it's exactly how you want and you can save it for later using the 'Save' icon in the card builder's top navigation. You'll have a chance to go back and make edits, if needed. When you're ready to purchase, simply add the announcement to your cart.
When you've spent time creating an announcement card you love, it becomes a special memento. You could always store your wedding announcements, wedding cards and other keepsakes from your journey inside a wedding photo book. A keepsake wedding album photo book is a great way to preserve your photos and weave your own unique wedding story.
Creative Ways To Announce
A unique design to remember
If you have artistic talent, then invest some of it into your wedding announcement design. While Snapfish has many ready-to-use announcement card templates, sometimes you have a specific design or theme in mind; so we have made it easy for you to create your own design. Take your time and make this the perfect wedding announcement with whatever meaningful photograph, text and colours your heart desires.
Photoshoot (at home)
Since it's a difficult time to get outside and take pictures, take this as an opportunity to give your wedding announcement photos an intimate and personable feel with an in-home photoshoot. Capture shots on the steps of your front door, near a tree you like to sit under, or the neighbourhood you grew up in. You could even create some DIY decorations or order them online to make an exciting photo backdrop. Set up some wedding balloons and confetti and start snapping some fun photos!
Virtual wedding
If you're having your wedding during the pandemic, consider complementing your micro-wedding with a few more virtual guests. Depending on where you live, it might even be a necessity. For your virtual wedding celebration, you could design wedding invitations with space to include information about how your friends and family can log in virtually to celebrate together. That way, all your friends and family can watch and then stay online for a virtual wedding party afterward. Remember to let everyone know what time to log in (as well as the instructions), and whether they need to go to a single link or download an app first.
Some virtual wedding ideas to consider:
Party box: Since you can't be together in person, bring the wedding breakfast to everyone! Put together a party box that you could send out before the virtual wedding that includes wedding decorations and signs for everyone to use and see over video.
Virtual meal: If you can't go out to eat together, bring the experience into your homes. Before the wedding, send out a simple recipe to your friends and family, or arrange for a local restaurant to send the meal to your guests' front door. On the day of, have everyone sit down and celebrate together over video.
Wedding video: If you're the parent of the bride (or groom), put together a quick celebration video that everyone could watch together over a video call. Include baby photos and photos throughout the years, as well as sweet messages.
Virtual toast: If you don't want to spend time organising anything, you could always celebrate with a quick virtual toast. Have everyone join a video call at the same time and invite guests to give speeches and tell fun stories about the bride and groom.
Wedding Announcement Etiquette
Here are some wedding announcement etiquette tips and tricks that will keep your wedding planning stress-free. To help you, we've answered some common questions about wedding correspondence you may come across while creating, addressing and sending your formal wedding announcements.
When To Send Wedding Announcements
There are many opinions about when is the best time to send out wedding invitations; a general rule of thumb is to send them out about two months before the wedding so guests have enough advance notice. However, if yours is a destination or mid-week wedding, then sending invitations or Save The Dates as early as possible is best so that guests have time to book tickets and request time off work or other engagements, as needed.
Who To Send Them To
Family members, both immediate and extended, will of course be thrilled to receive a wedding announcement. Parents and other important family members will likely have already been informed of all the key details. Still, they will enjoy receiving their personalised wedding announcements, and sharing them on the fridge for all their friends to admire. Think extended family, such as grandparents, aunts, uncles, and cousins; family that you may not see every day, but have made an impact on your life, and will want to hear your news in a meaningful manner. And, last but not least, anyone else you would like to share your special day with.
Announcing your wedding is not something you get to do every day. Soak up this moment, and share the news in a way that's meaningful to you. Whether you opt for the formal, thankful, artistic, or any of the other styles described above, the important thing is to get the word out so the people in your life can celebrate with you.
Feeling inspired to create your own wedding announcements?
Share your wedding invitations, Thank You cards and photo books with us on social media. You can tag us with @snapfishuk in your photos on Instagram or Facebook or use the hashtag #snapfishuk. Follow us on YouTube, Twitter and Pinterest, too. Check out the Snapfish site for even more wedding gift inspiration.