In the midst of an odd year, we're all for sharing smiles any way possible. For many, this means sending Christmas cards featuring their favourite photos and happy faces. (No photo? No worries — we have plenty of incredible non-photo cards to send to your loved ones!)
Whether you're sending or just receiving cards this year, it's always fun to find a special way to showcase these season's greetings around your home. Lucky for you, we've got some inspiration ahead!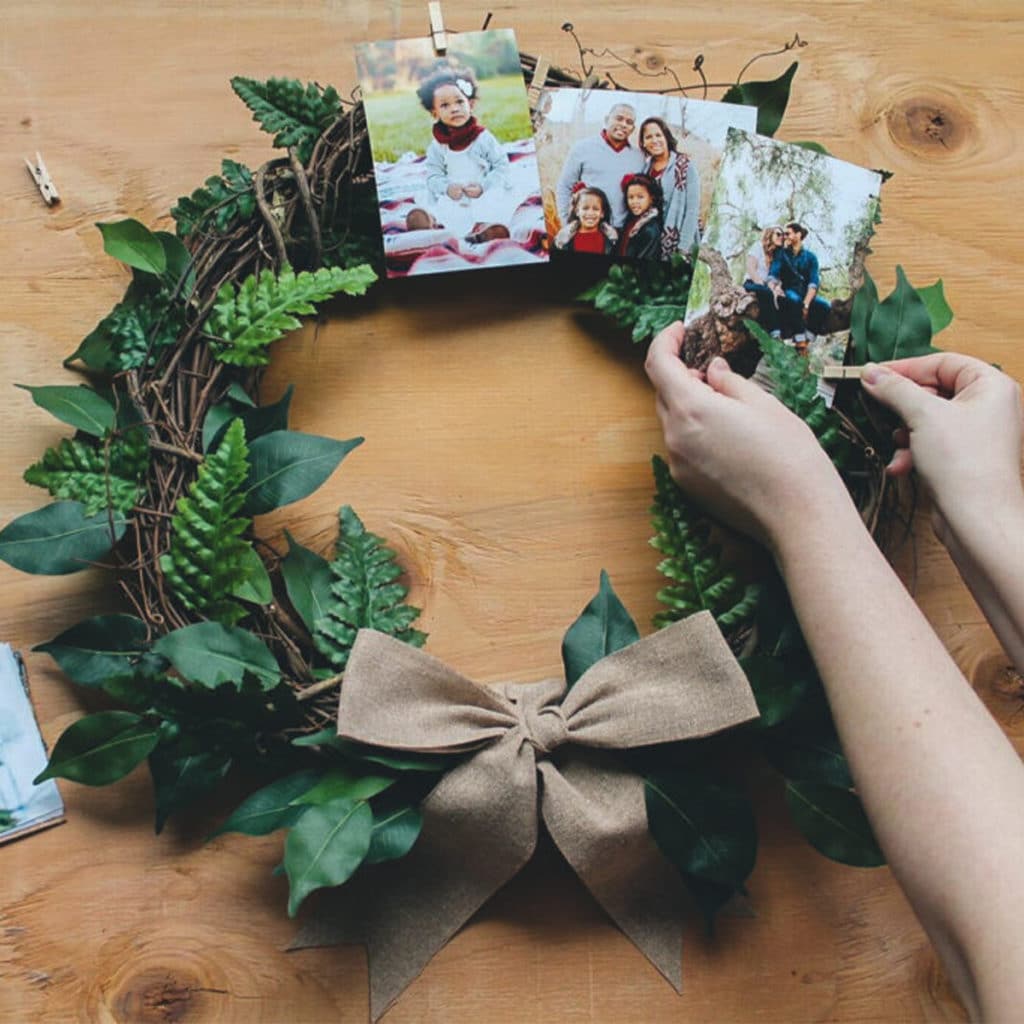 Create a completely one-of-a-kind card wreath
A big, green wreath always makes a gorgeous decoration fit for the season… But what if you made one that was uniquely you? We've got step-by-step instructions to create a photo print wreath, but you should give this a try with the Christmas cards you receive this year! It's fun for you (and the little ones, too!) to add Christmas cards to your custom wreath as they arrive in the post.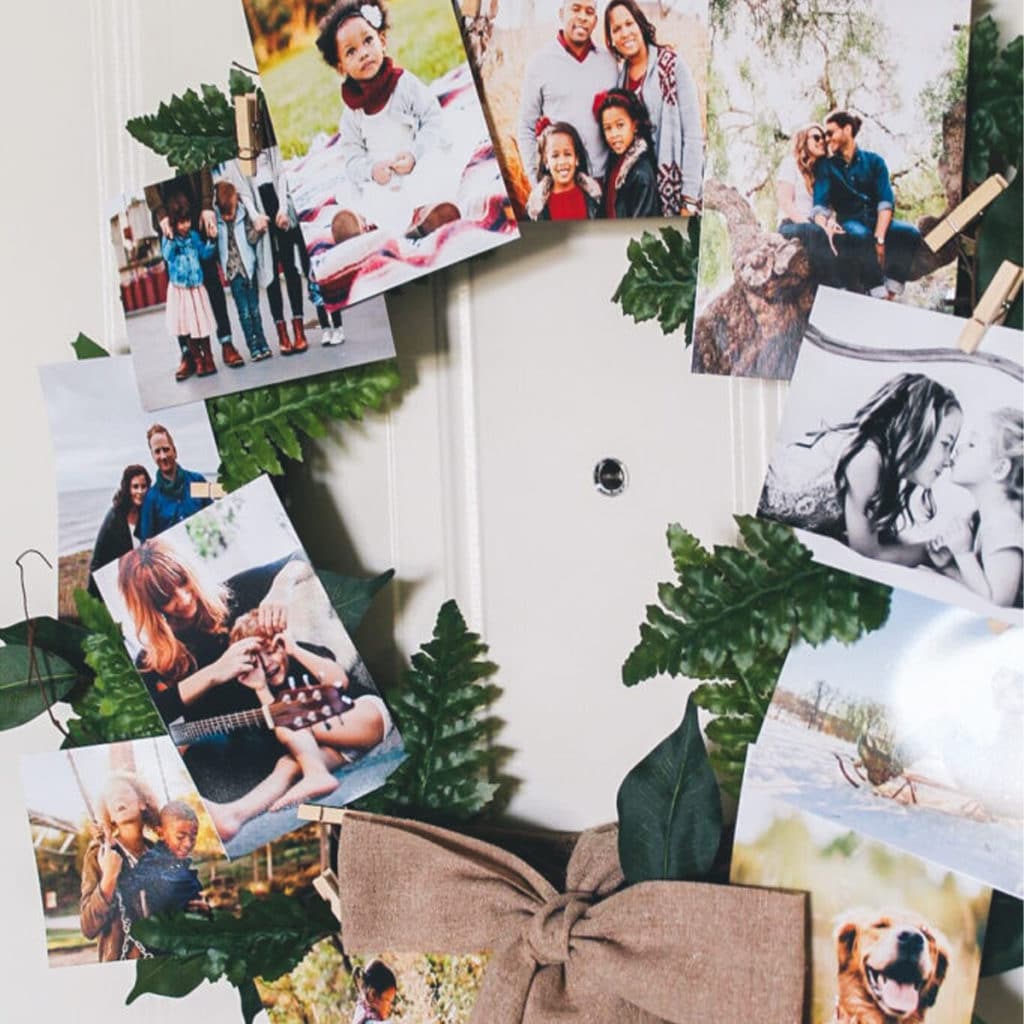 Hang your wreath in a special spot in your home to enjoy every day. Better yet, you can entertain your delivery people and neighbours alike by hanging it on your front door or in your porch! This sweet keepsake will make you smile all season and is a great way to display your Christmas cards with festive flair.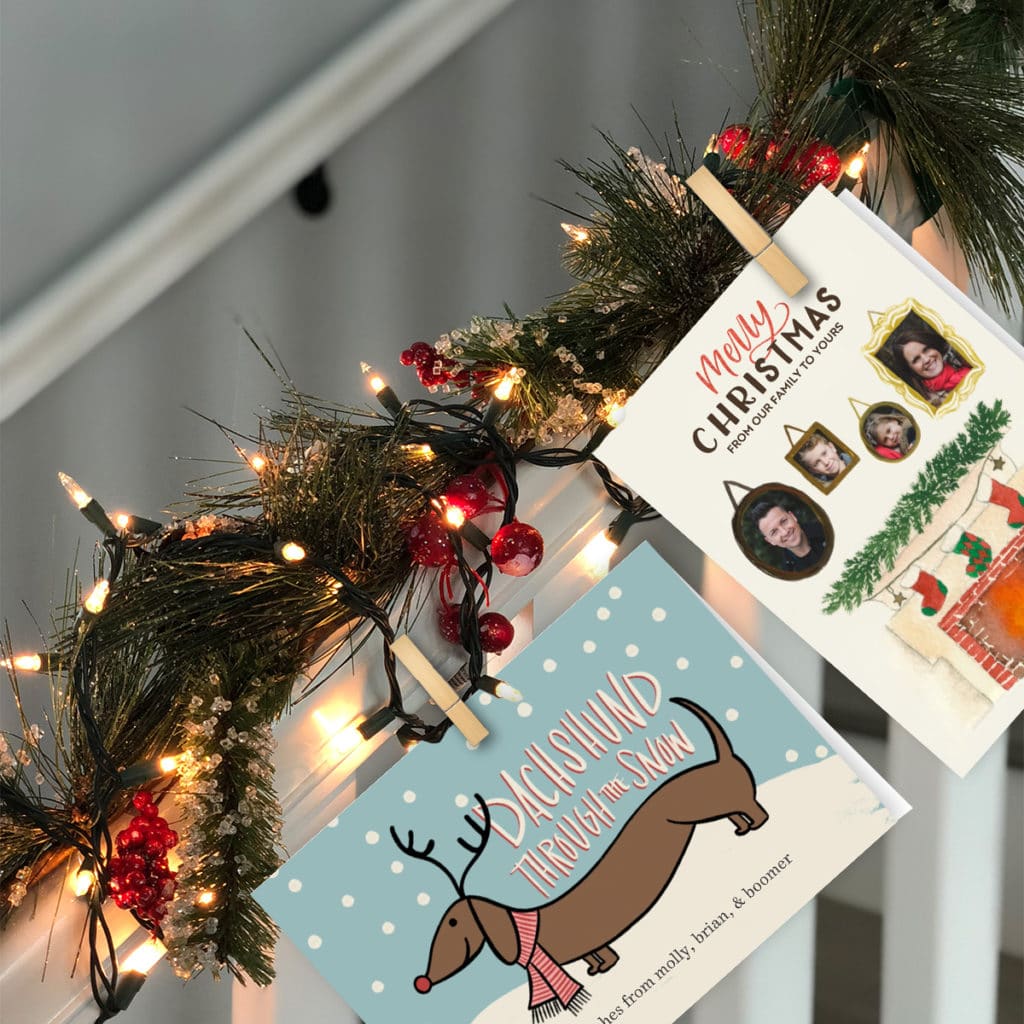 DIY a garland or banner using Christmas cards
Looking for a larger display for your Christmas and New Year cards this season? Why not create a gorgeous garland to wind down the bannister or across your mantel! Grab strands of garland from the shops and embellish it with ribbons, bows, bells, and more. Make it perfectly match your décor! Then, attach all of your incoming Christmas cards to it using clothes pegs. This creates a lovely and lively display that will make you smile each time you pass by.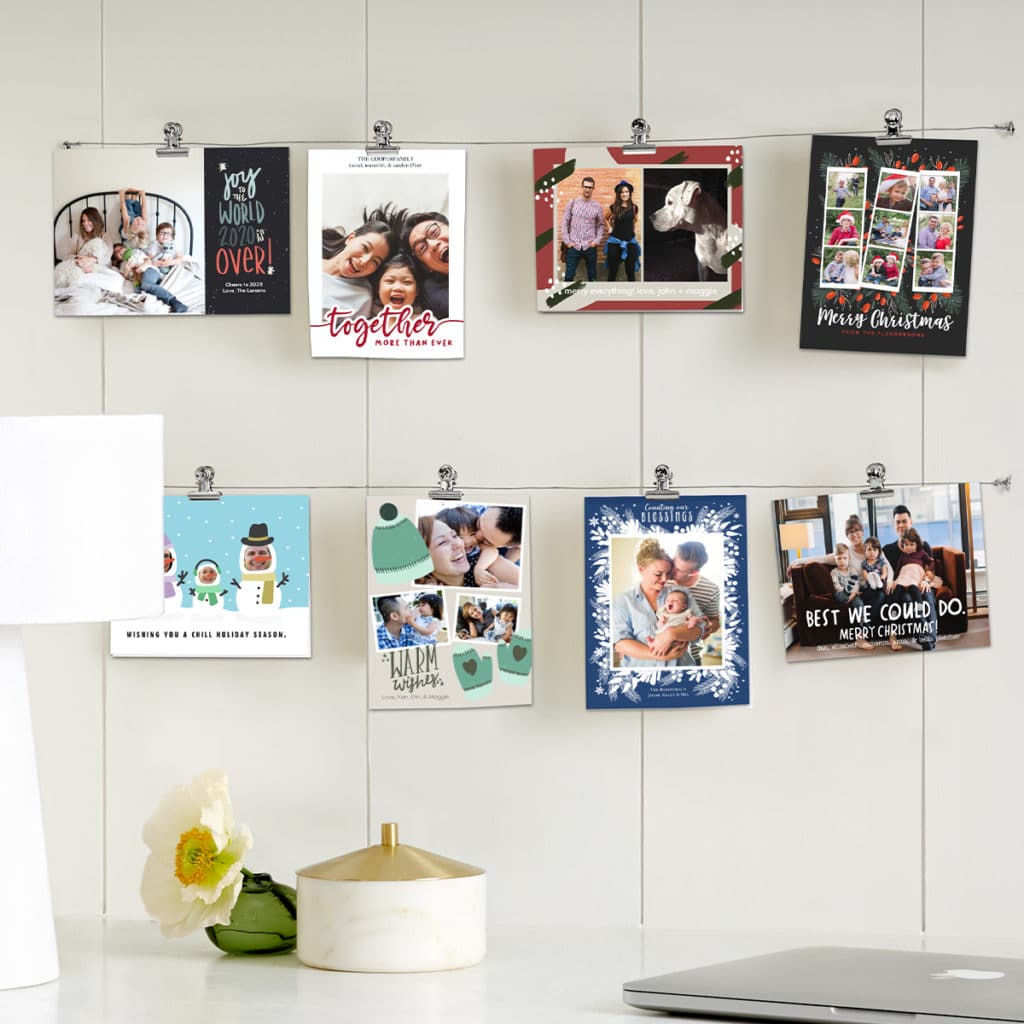 Greenery not your thing? Try creating a simple banner out of the cards that come in the post! All you have to do is cut the cards into triangular shapes, punch some holes in the top, and string them together. You could also leave them intact so as not to lose any of the photos or sweet messages that your cards contain. Just attach each card using clothes pegs or bulldog clips to a piece of twine or ribbon, and you've got a beautiful banner to add to your mantel, staircase, or even just to hang across your wall.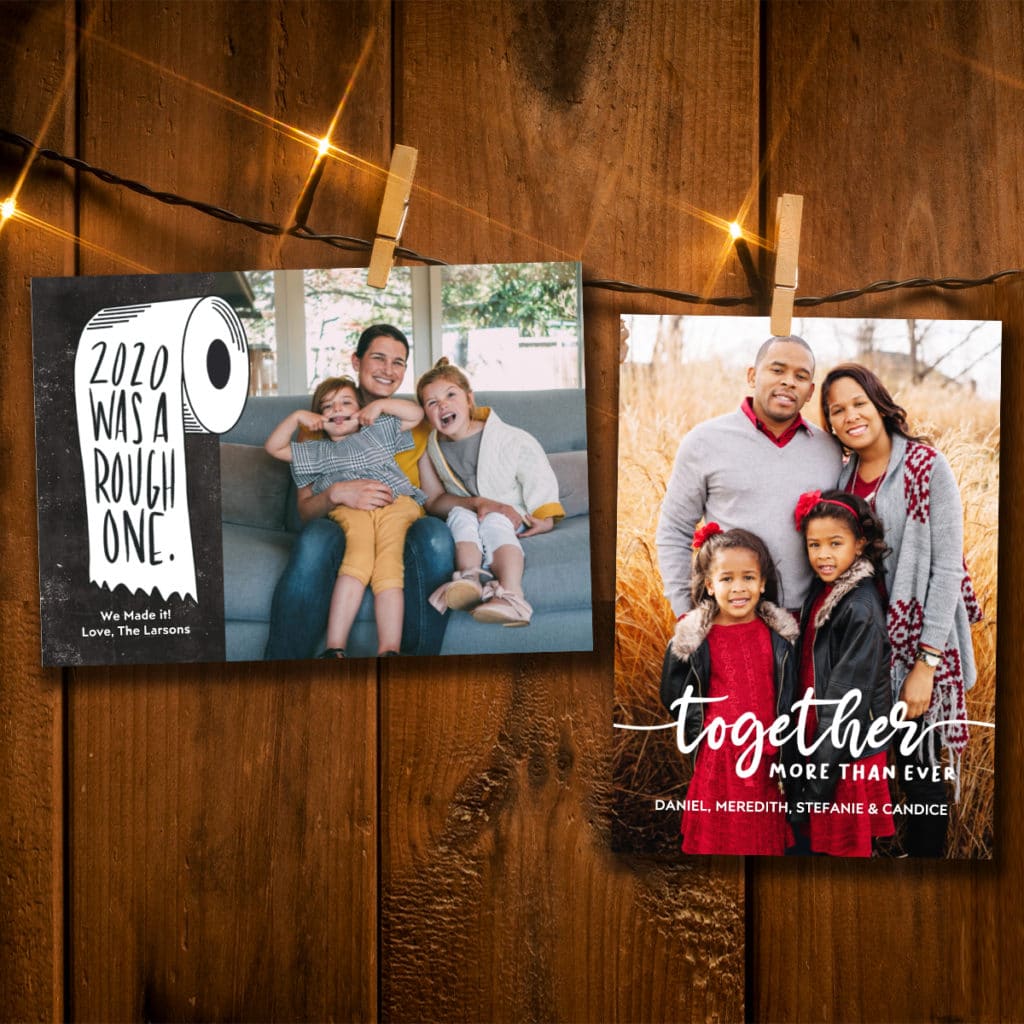 Display each creative card on your wall
If you're on the hunt for a more unique way to show off your seasonal sentiments, look no further! There are loads of fun displays that require only some wall space or a door. We love seeing Christmas cards hung horizontally on some fairy lights. Just attach each card to the string of lights using a clothes peg or bulldog clip for a simple but sweet showcase.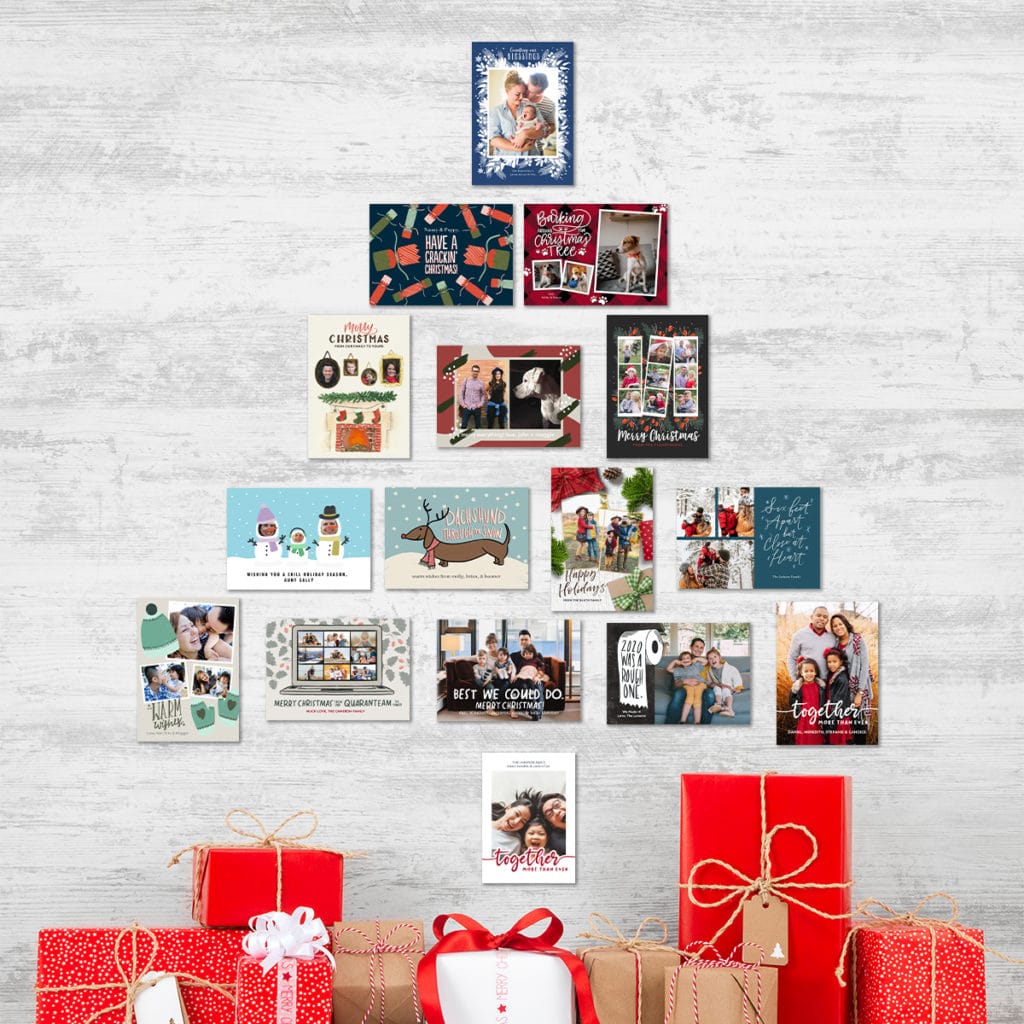 If you're really feeling the Christmas spirit, it's easy to turn the cards you receive into an extra tree! Add some ribbon or shimmery garland to your wall in the shape of a Christmas tree using tape. Then add the cards, adorn with some bows, and more to make your display look like a fully-decorated Christmas tree! You could even hang some extra Christmas baubles along the ribbon for an added touch. In fact, you could simplify this even further by just attaching your Christmas cards to the wall in the shape of an evergreen tree — this creates an interesting geometric effect. Add a decorative basket or bucket beneath your display to hold gifts for a unique look for Christmastime.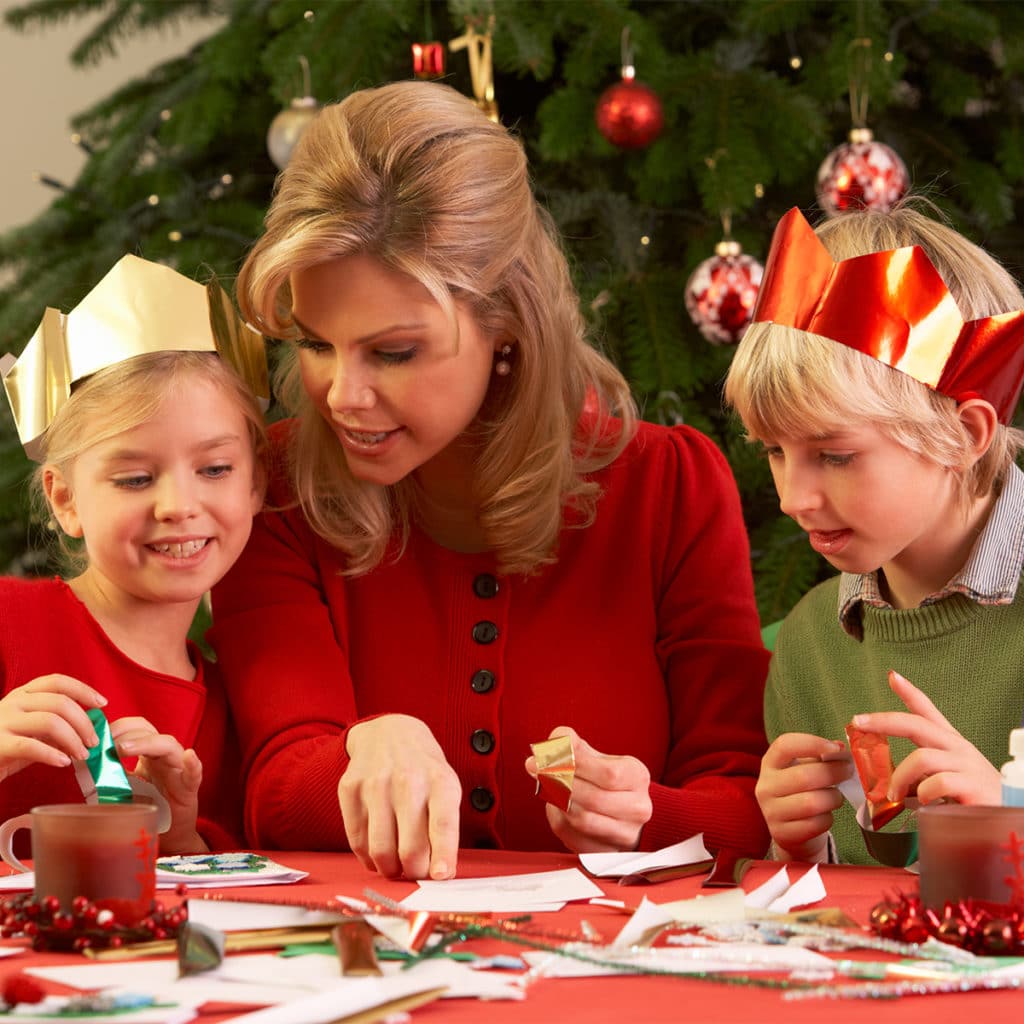 Snapfish + Macmillan are working in partnership to raise vital funds. For every greeting card or flat card set sold, Macmillan receive up to 15p.
If you created a one-of-a-kind Christmas card display this year, make sure to share it with us on social media! You can tag us on Instagram or Facebook or use the hashtag #snapfishuk. Don't forget to follow us on YouTube, Twitter and Pinterest, too.